Are you looking for a gastronomy vehicle, restaurant container or mobile office? Then we offer you a wide range of options. Because at DANSTEP, we live innovation. Our goal is to ensure that every customer receives the optimum product tailored to their needs. That is why we have created a unique customer service for food trucks and gastronomy vehicles.
We have created the largest and most modern food truck rental fleet. This fleet of vehicles, as good as new and well-maintained, with state-of-the-art technology, ensures that you can successfully sell your products to your potential customers when renting a food truck. After all, the eye eats with you.
Leasing and financing options of our gastronomy vehicles
We created leasing and financing options for customers that give almost every citizen access to a new food truck. We created a food truck configurator. With this digitalized tool you have the option to choose your sales truck easily and with data protection. For this purpose, you can choose from over a thousand options for the gastronomy vehicles.
Every day at DANSTEP we live customer service par excellence. From time to time, we come across new options to offer customers even more variations and qualities of unique service. We are proud of the numerous positive evaluations, honors, and tributes to our work from our customers. Our customers make DANSTEP live, so we owe our customers a perfect product. We achieve this at the best prices in the industry.
Innovation gastronomy vehicles
With up to 100 innovations a year, we are one of the most innovative companies on the market. Every food truck that leaves our halls must be unique. We are not satisfied until your food truck stands out from the crowd. This is our passion.
We offer hot dog bikes, hot dog trailers, coffee stands, crepe trailers, food bikes and mobile juice bars. Our product range covers every corner of mobile catering. If that's not enough, DANSTEP offers futuristic trade show mobiles, presentation vehicles, mobile offices or top deals on Ebay.
DANSTEP is never more than a phone call or email away from you.
We look forward to meeting you.
Our services
Danstep gastronomy vehicles & CONTAINER
In the field of food trailers and gastronomy vehicles, we are one of the leading companies in the country. We build gastronomy vehicles as bakery trailers, snack trailers, venison sales trailers, refrigerated counter trailers, kebab trailers and more.
We plan your perfect product in a series of workflows. Because every food truck, which leaves our halls, has been checked for any kind of defects in countless workflows. This results in a complaint rate of less than a quarter of a percentage point.
This value is fantastically low, but it still shows us that we have to work even harder and more meticulously.
​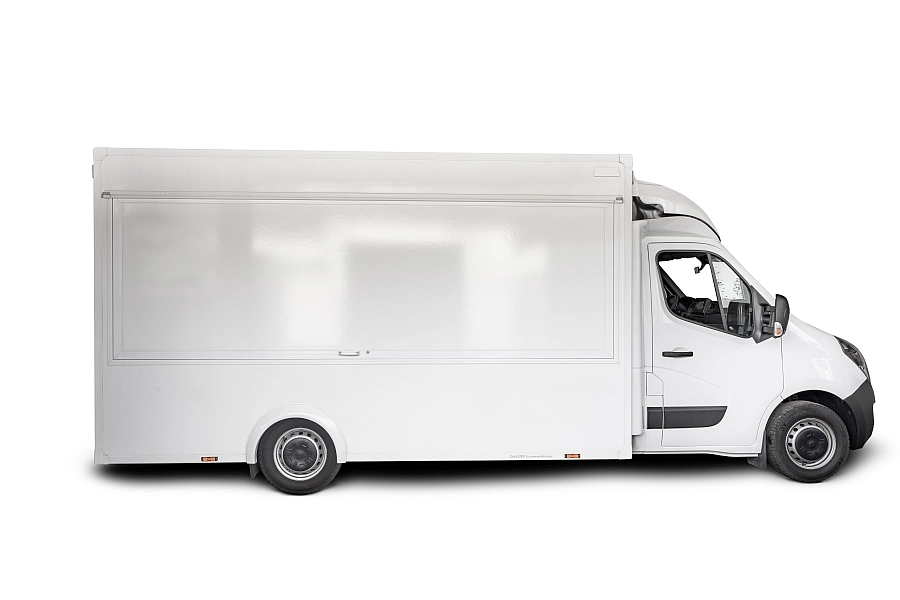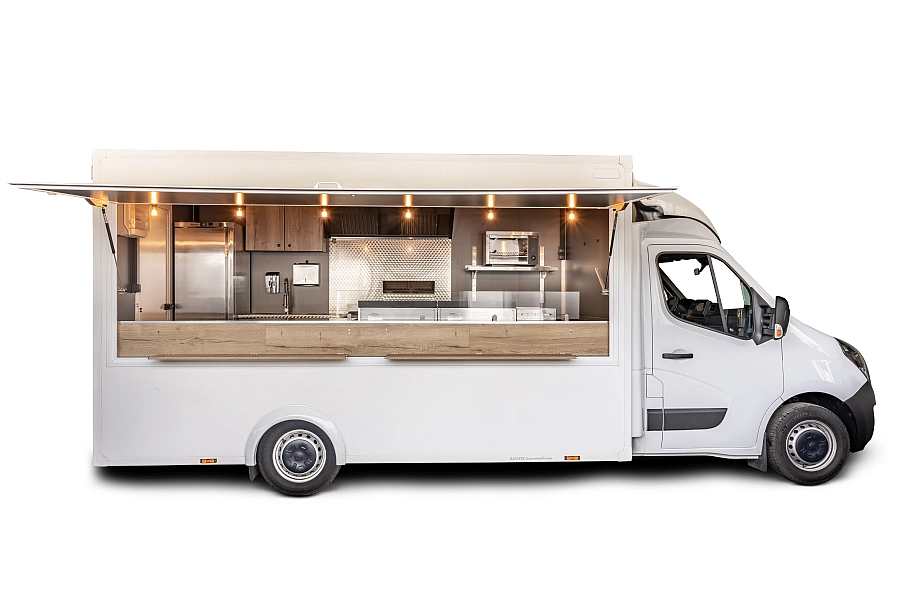 Gastronomy vehicles for sale
Based on our experience we created some handpicked models, our price-performance winners, which we have been successfully renting out for years. We offer these established gastronomy vehicles as series models at top conditions.
However, as individually created food trucks and gastronomy vehicles became more and more in demand, especially in the street food scene, we decided to offer our customers absolutely customized food trucks.
Gastronomy vehicles rental
The generous and extensive equipment of our gastronomy vehicles helps the customer to achieve an outstanding standing in the industry. DANSTEP GmbH currently specializes in various rental models.
All gastronomy vehicles are handcrafted. You will feel this quality. A team of engineers, carpenters, electronics technicians and interior designers is involved in the production of the gastronomy vehicles.
To ensure that the DANSTEP team also keeps an eye on the culinary aspect and a perfect workflow in the food truck every time a new model is designed, DANSTEP GmbH employs 2 chefs specifically for this purpose. In this way, a practical concept is guaranteed.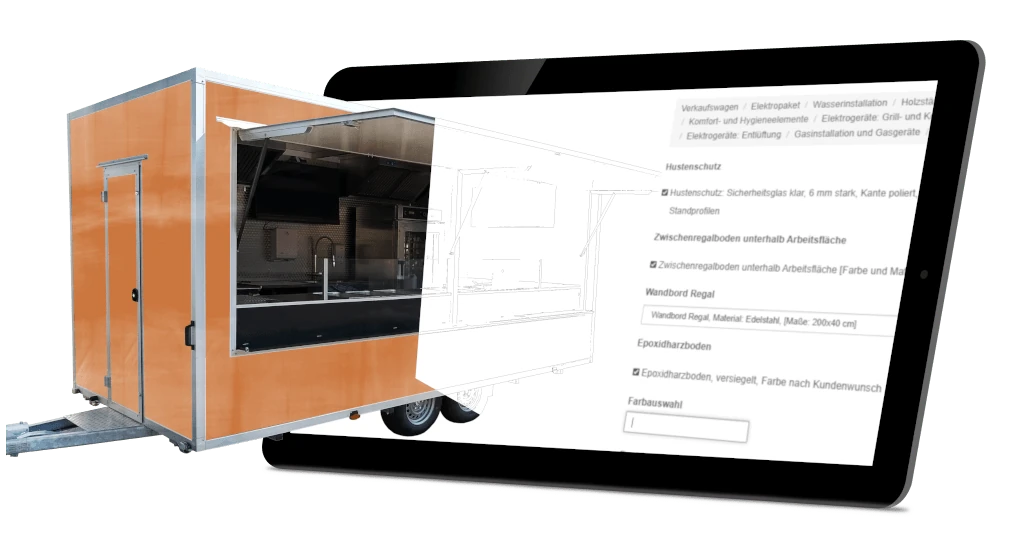 Our gastronomy vehicle configurator
Put together your own desired product online according to your own ideas. You can choose from a range of countless components to make your mobile catering dream come true. The gastronomy vehicle configurator is a true innovation from DANSTEP GmbH in the gastronomy vehicle industry.
Learn everything about our company, our team and network of representatives.
As described at the beginning, we distinguish ourselves through service. Our employees are familiar with all products in detail. This is the only way we can ensure outstanding consulting quality for gastronomy vehicles. We take our time for you. Our goal is not a quick business deal.
Our goal is a satisfied customer. We stand for fair and transparent prices with outstanding quality.
Our series models
Gastronomy vehicles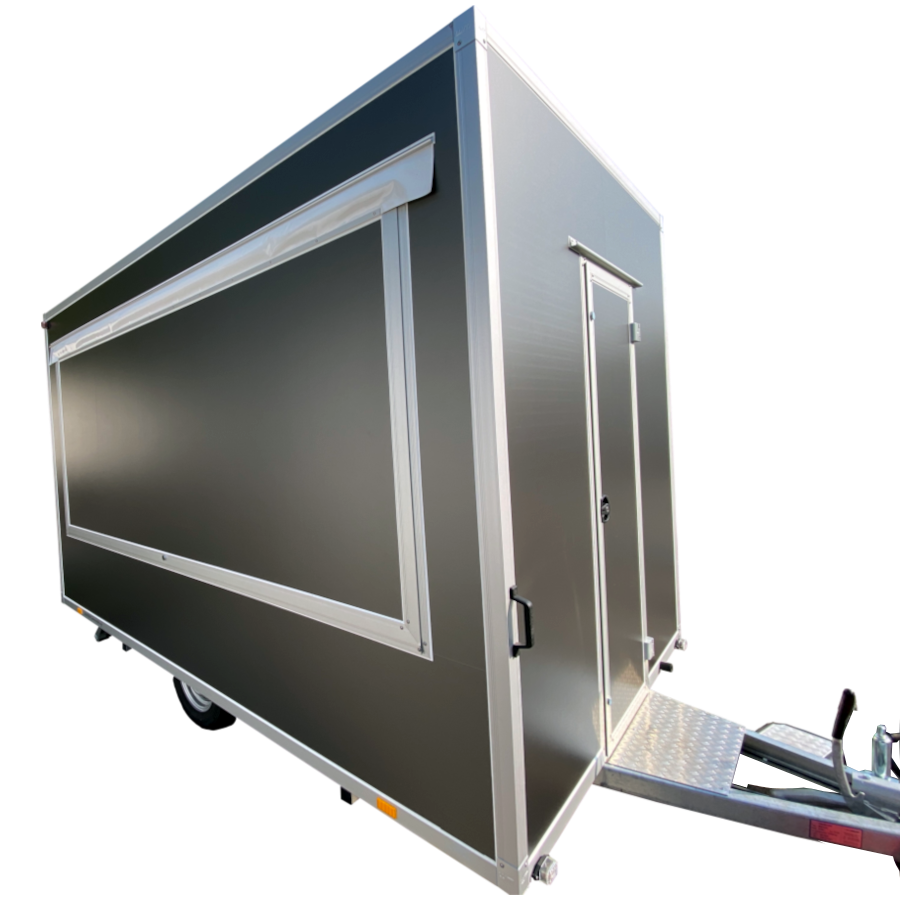 Food trailer "Gastro Mago"
The "GASTRO MAGO" food truck combines elegance and robustness. With an outstanding setup, intelligent equipment selection and stainless steel work surfaces, this sales trailer is in no way inferior to an industrial kitchen.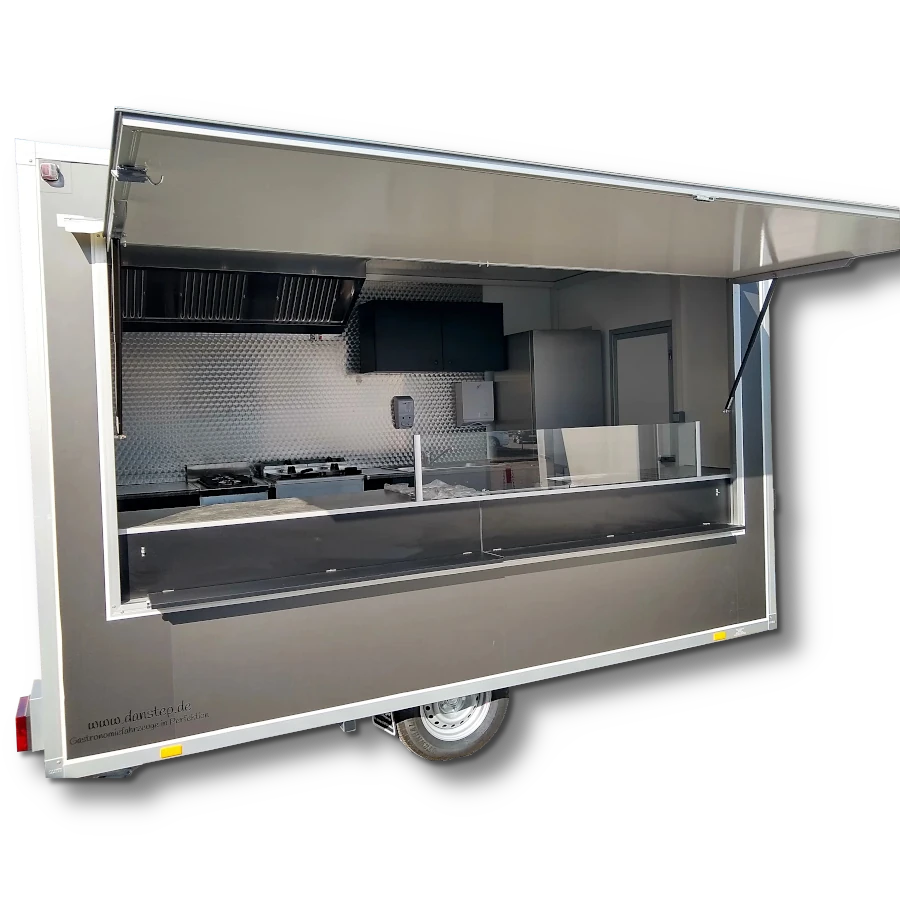 Food trailer "Gastro Mirari"
A customer who is reluctant to make compromises in his daily work can hardly avoid the GASTRO Mirari. Its variety of devices, its appearance and its design are unique.
It is not without reason that Mirari is synonymous with a miracle in the Basque language. – Your gastronomy vehicles producer Danstep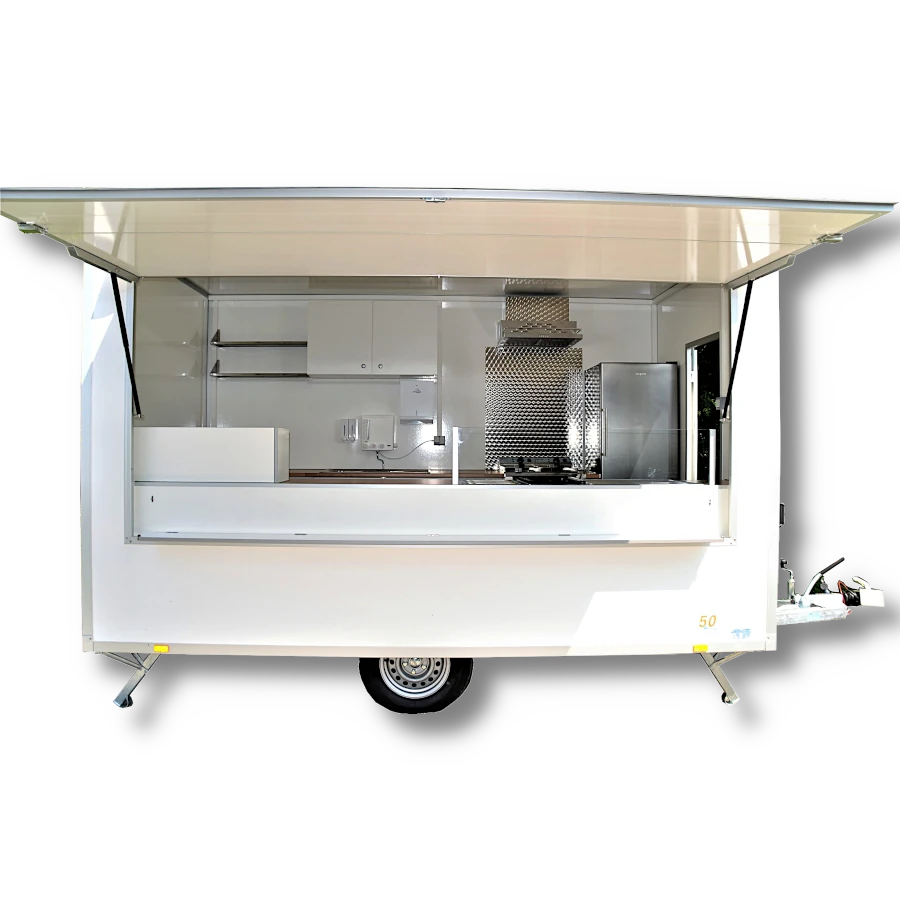 Food trailer "Gastro Standard"
The food trailer "Gastro Standard" is the classic among the food trailers. This type of trailer provides you with an optimal starting point with the customer and convinces with its high-quality workmanship.
The "Gastro Standard" is handmade in our company. It carries the predicate "Made in Germany" therefore rightly. – Your catering vehicles producer Danstep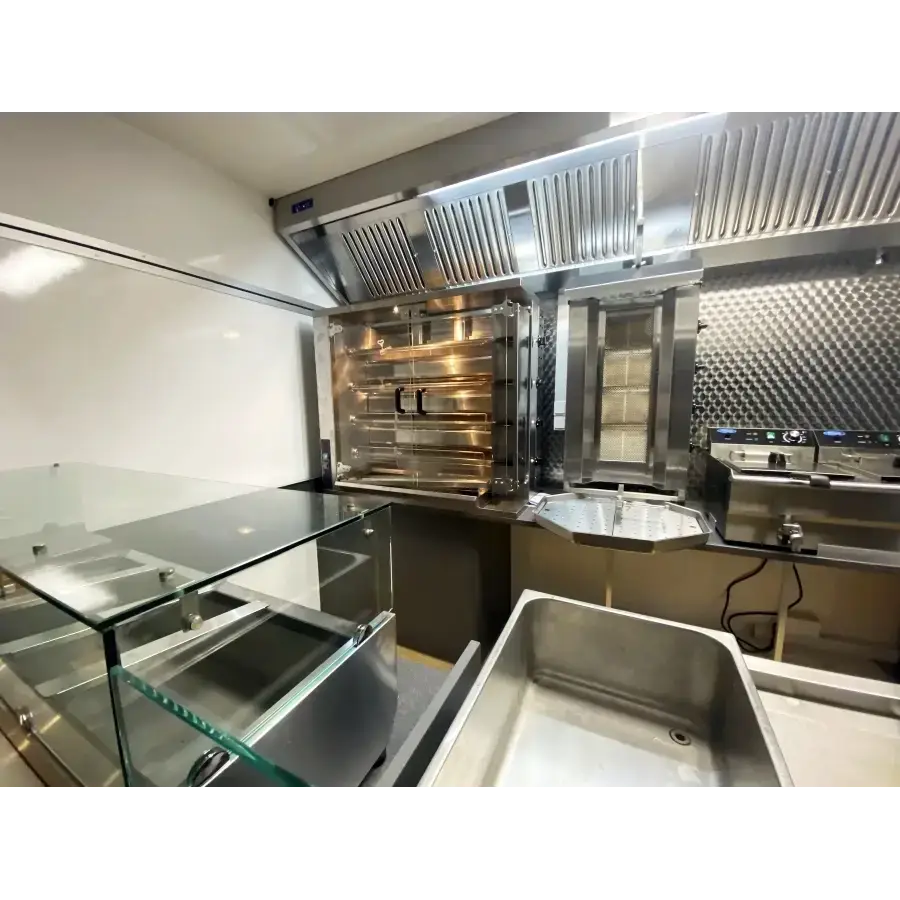 Food trailer "Chicken Imperial"
The food trailer "CHICKEN IMPERIAL" impresses with an outstanding setup, an intelligent choice of devices and an appealing design. The gas-powered rotating spit is used to prepare tasty gyros and kebab specialties.
This allows the preparation of up to 24 chickens at the same time. In the front area, you will find a king-size griddle and a bain marie on the customer side.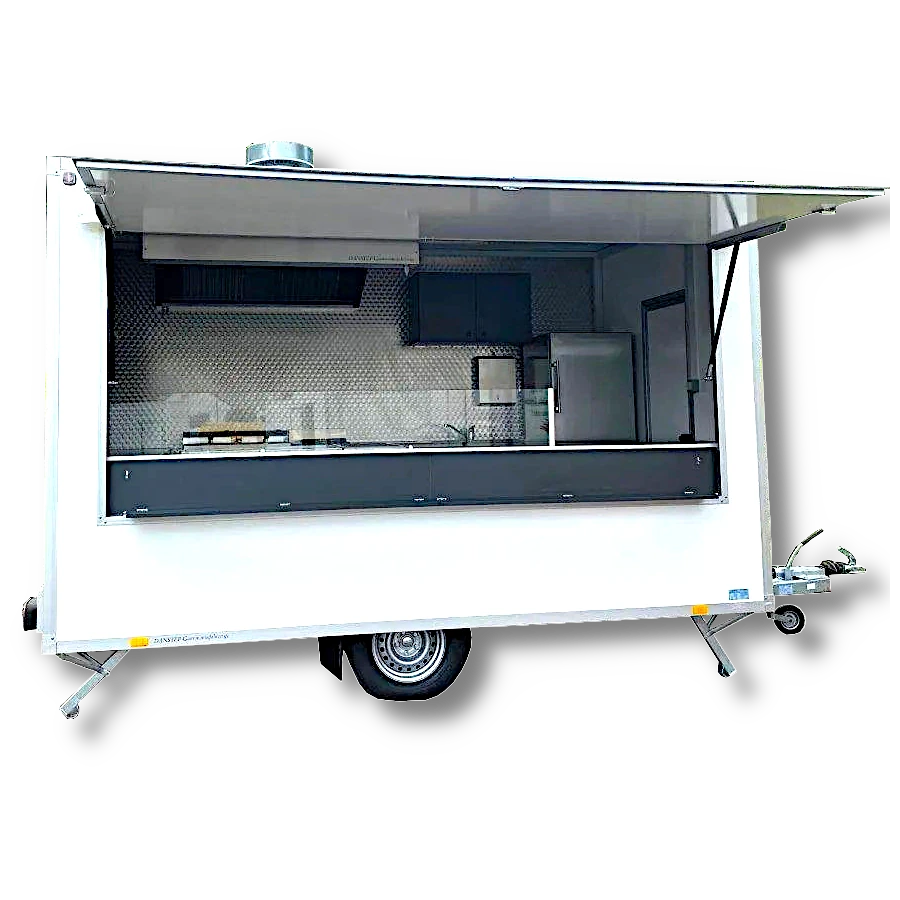 Food trailer "Gastro Expert"
For professional chefs who work in the absolute high-frequency range, the DANSTEP production team has constructed something very special. This creation was realized especially for one of Germany's most prominent TV and show chefs.
The goal was to create a mobile high-performance kitchen that is equally suitable for show, presentation and commercial kitchen use. – Your gastronomy vehicles producer Danstep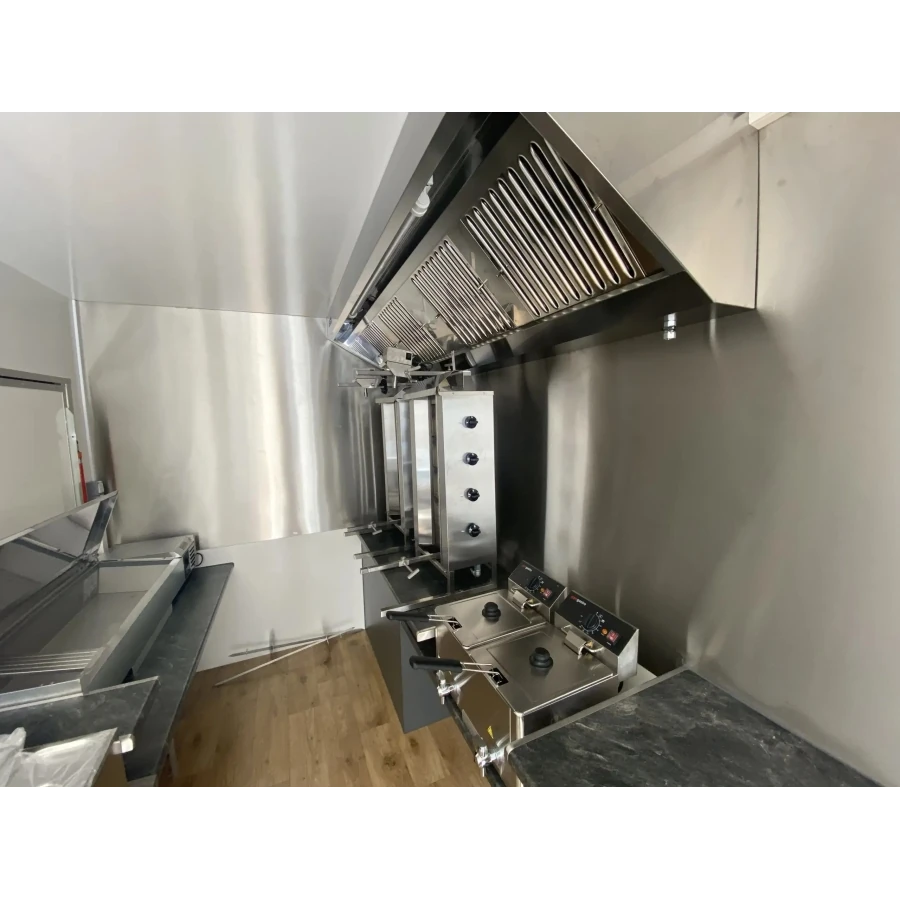 Food trailer "Gastro Olymp Superior"
The "Gastro Olymp Superior" food trailer is the "big brother" of the Gastro Olymp. This gastronomy vehicle is characterized by an intelligent equipment selection and arrangement.
The gas-powered rotating skewers are used to prepare tasty gyros and kebab specialties. Each of these skewers can hold up to 60 kg of meat. – Your gastronomy vehicles producer Danstep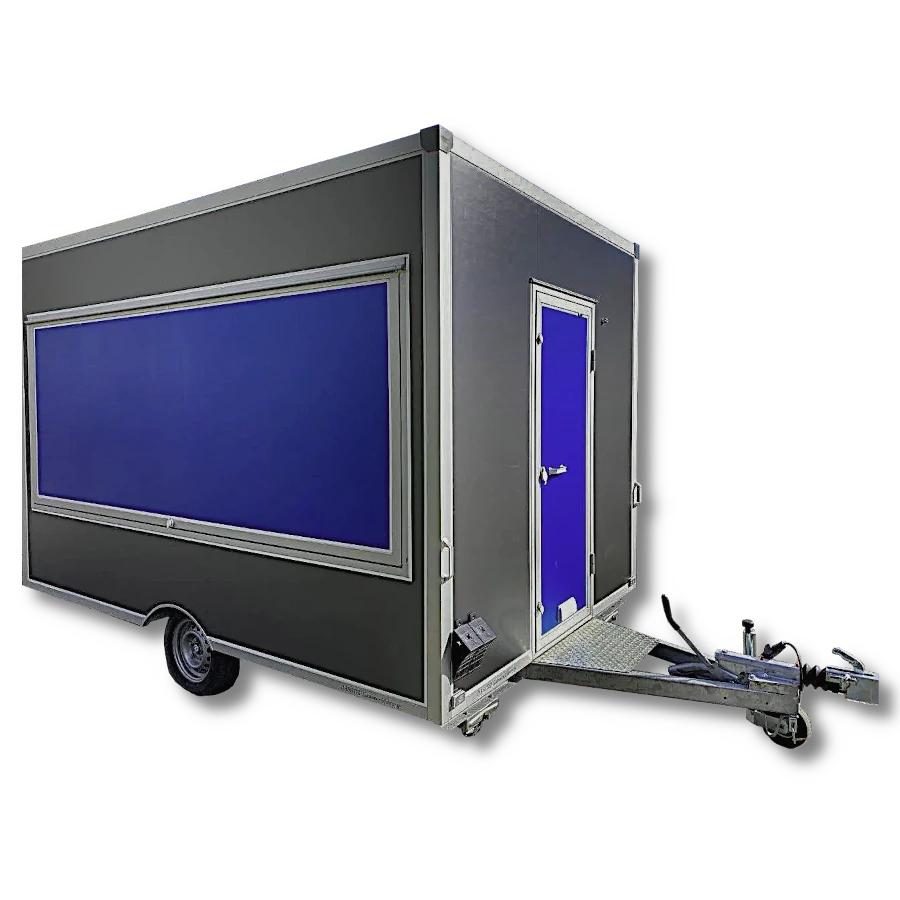 Food trailer | Refrigerated counter trailer "Polar 3.6"
The king of freshness. The Polar 3.6 equally manages to perfectly stage and prepare your goods.
The deep-frying volume is exceptional. But not only frying processes are the strength of the Polar 3.6 – your gastronomy vehicle producer Danstep
Food trailer "Gastro Master"
The "Gastro Master" food trailer eliminates the need to carry gas bottles. In times of the energy turnaround, we have consciously decided to create a model that can be operated exclusively with electricity.
Since about 40% of Germany's electricity now comes from renewable sources, the Gastro Master is a true climate saver. – Your gastronomy vehicles producer Danstep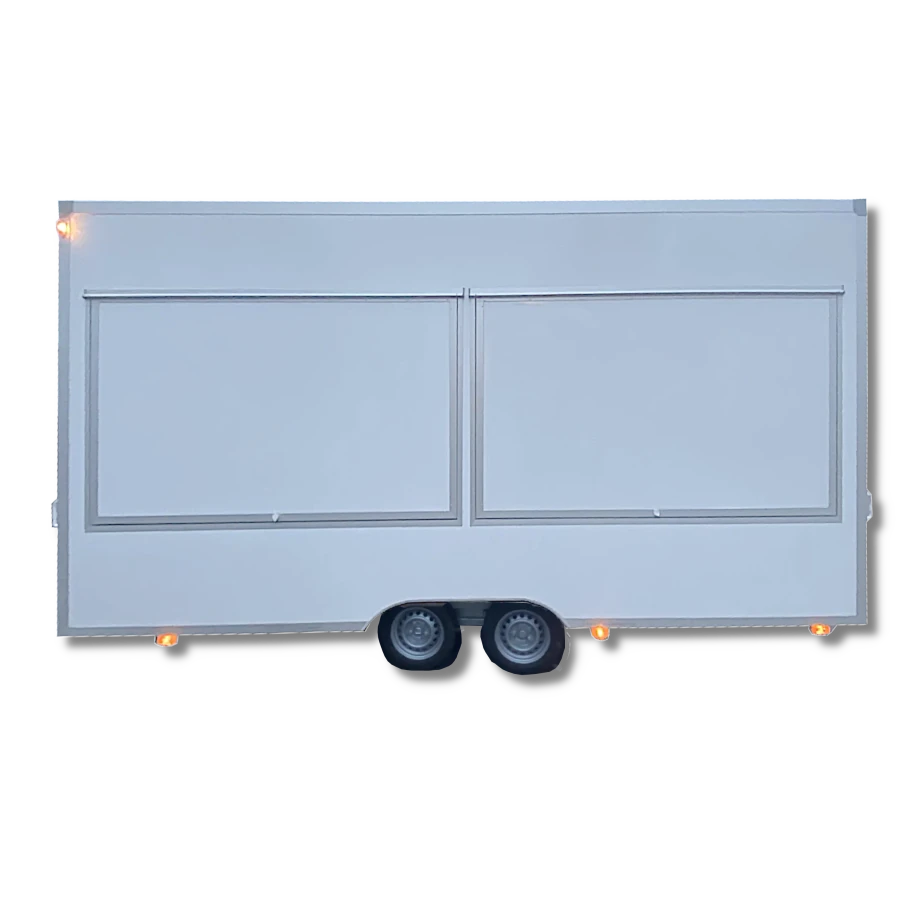 Food trailer "Gastro Magistral"
The masterpiece. The Gastro Magistral is our commercial kitchen on wheels. It is particularly suitable as a canteen substitute, as a catering and festival vehicle and for catering to large crowds at any occasion.
The range of equipment and the power of the internals makes it possible to work stress-free with up to 5 people inside. – Your gastronomy vehicles producer Danstep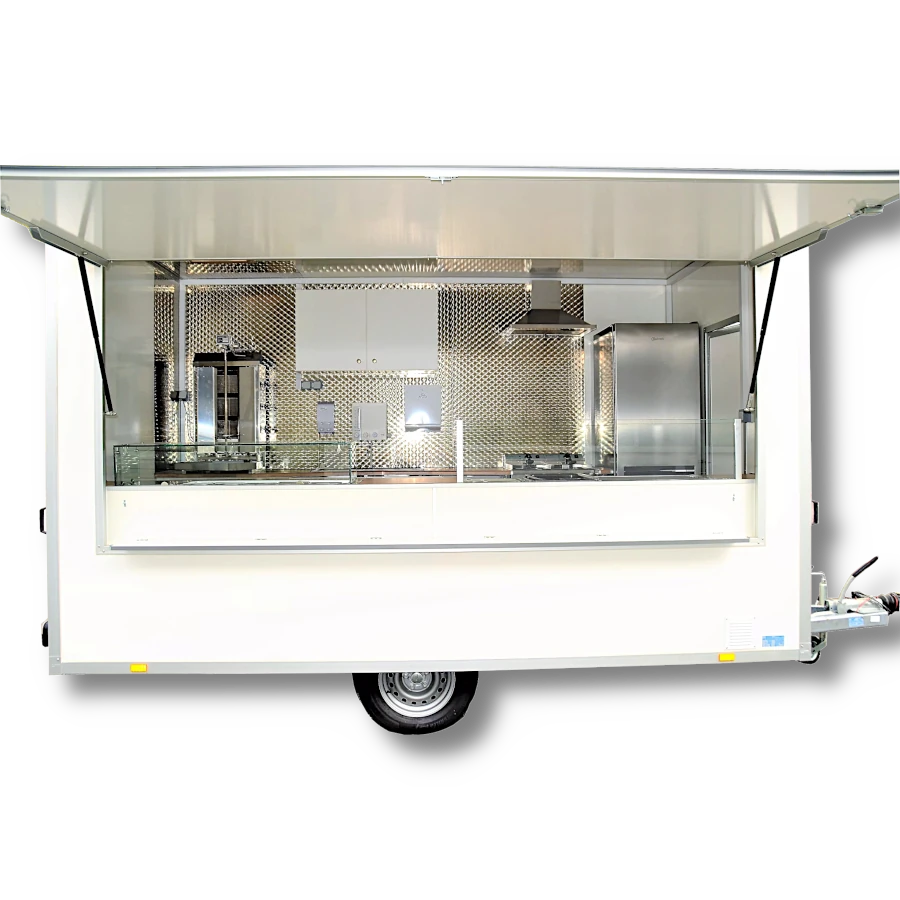 Food trailer "Gastro Olymp"
The food trailer "Gastro Olymp" is the premium product of DANSTEP GmbH. With this food trailer, they climb the Olympus of mobile food restaurant.
Its application possibilities are almost unlimited, because never before has the available space been used as intelligently and expediently as with the "Gastro Olymp". – Your gastronomy vehicles producer Danstep
Imbisswagen mieten in
Gastronomy vehicles renting / buying in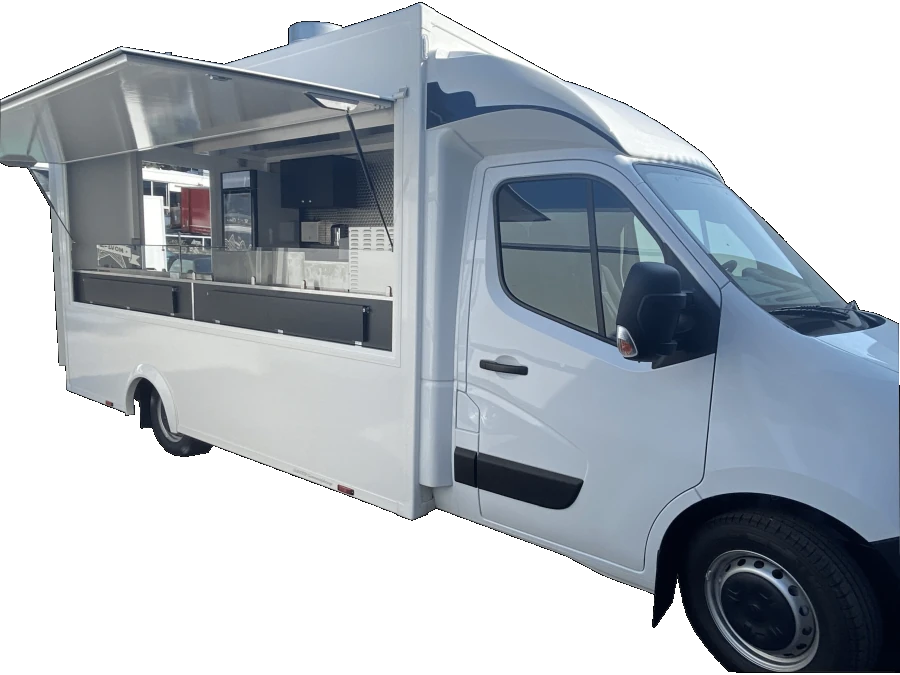 Einige Inselgemeinden sind von der Vermietung ausgeschlossen. Sollten Sie Bewohner einer Nord- oder Ostseeinsel sein, so prüfen Sie bitte, ob Ihr Wohnort in der unterhalb aufgeführten Liste enthalten ist.
A
Aach (Baden-Württemberg *)
Aachen (Nordrhein-Westfalen)
Aalen (Baden-Württemberg *)
Abenberg (Bayern *)
Abensberg (Bayern *)
Achern (Baden-Württemberg *)
Achim (Niedersachsen)
Adelsheim (Baden-Württemberg *)
Adenau (Rheinland-Pfalz)
Adorf/Vogtl. (Sachsen)
Ahaus (Nordrhein-Westfalen)
Ahlen (Nordrhein-Westfalen)
Ahrensburg (Schleswig-Holstein *)
Aichach (Bayern *)
Aichtal (Baden-Württemberg *)
Aken (Elbe) (Sachsen-Anhalt *)
Albstadt (Baden-Württemberg *)
Alfeld (Leine) (Niedersachsen)
Allendorf (Lumda) (Hessen)
Allstedt (Sachsen-Anhalt *)
Alpirsbach (Baden-Württemberg *)
Alsfeld (Hessen)
Alsdorf (Nordrhein-Westfalen)
Alsleben (Saale) (Sachsen-Anhalt *)
Altdorf bei Nürnberg (Bayern *)
Altena (Nordrhein-Westfalen)
Altenau (Niedersachsen)
Altenberg (Sachsen)
Altenburg (Thüringen)
Altenkirchen (Westerwald) (Rheinland-Pfalz)
Altensteig (Baden-Württemberg *)
Altentreptow (Mecklenburg-Vorpommern *)
Altlandsberg (Brandenburg)
Altötting (Bayern *)
Alzenau (Bayern *)
Alzey (Rheinland-Pfalz)
Amberg (Bayern *)
Amöneburg (Hessen)
Amorbach (Bayern *)
Andernach (Rheinland-Pfalz)
Angermünde (Brandenburg)
Anklam, Hansestadt (Mecklenburg-Vorpommern *)
Annaberg-Buchholz (Sachsen)
Annaburg (Sachsen-Anhalt *)
Annweiler am Trifels (Rheinland-Pfalz)
Ansbach (Bayern *)
Apolda (Thüringen)
Arendsee (Altmark) (Sachsen-Anhalt *)
Arneburg (Sachsen-Anhalt *)
Arnis (Schleswig-Holstein *)
Arnsberg (Nordrhein-Westfalen)
Arnstadt (Thüringen)
Arnstein (Bayern *)
Arnstein (Sachsen-Anhalt *)
Artern/Unstrut (Thüringen)
Arzberg (Bayern *)
Aschaffenburg (Bayern *)
Aschersleben (Sachsen-Anhalt *)
Asperg (Baden-Württemberg *)
Aßlar (Hessen)
Attendorn (Nordrhein-Westfalen)
Aub (Bayern *)
Aue (Sachsen)
Auerbach in der Oberpfalz (Bayern *)
Auerbach/Vogtl. (Sachsen)
Augsburg (Bayern *)
Augustusburg (Sachsen)
Aulendorf (Baden-Württemberg *)
Auma-Weidatal (Thüringen)
Aurich (Niedersachsen)
B
Babenhausen (Hessen)
Bacharach (Rheinland-Pfalz)
Backnang (Baden-Württemberg *)
Bad Aibling (Bayern *)
Bad Arolsen (Hessen)
Bad Belzig (Brandenburg)
Bad Bentheim (Niedersachsen)
Bad Bergzabern (Rheinland-Pfalz)
Bad Berka (Thüringen)
Bad Berleburg (Nordrhein-Westfalen)
Bad Berneck im Fichtelgebirge (Bayern *)
Bad Bevensen (Niedersachsen)
Bad Bibra (Sachsen-Anhalt *)
Bad Blankenburg (Thüringen)
Bad Bramstedt (Schleswig-Holstein *)
Bad Breisig (Rheinland-Pfalz)
Bad Brückenau (Bayern *)
Bad Buchau (Baden-Württemberg *)
Bad Camberg (Hessen)
Bad Colberg-Heldburg (Thüringen)
Bad Doberan (Mecklenburg-Vorpommern *)
Bad Driburg (Nordrhein-Westfalen)
Bad Düben (Sachsen)
Bad Dürkheim (Rheinland-Pfalz)
Bad Dürrenberg (Sachsen-Anhalt *)
Bad Dürrheim (Baden-Württemberg *)
Bad Elster (Sachsen)
Bad Ems (Rheinland-Pfalz)
Baden-Baden (Baden-Württemberg *)
Bad Fallingbostel (Niedersachsen)
Bad Frankenhausen/Kyffhäuser (Thüringen)
Bad Freienwalde (Oder) (Brandenburg)
Bad Friedrichshall (Baden-Württemberg *)
Bad Gandersheim (Niedersachsen)
Bad Gottleuba-Berggießhübel (Sachsen)
Bad Griesbach im Rottal (Bayern *)
Bad Grund (Harz) (Niedersachsen)
Bad Harzburg (Niedersachsen)
Bad Herrenalb (Baden-Württemberg *)
Bad Hersfeld (Hessen)
Bad Homburg vor der Höhe (Hessen)
Bad Honnef (Nordrhein-Westfalen)
Bad Hönningen (Rheinland-Pfalz)
Bad Iburg (Niedersachsen)
Bad Karlshafen (Hessen)
Bad Kissingen (Bayern *)
Bad König (Hessen)
Bad Königshofen im Grabfeld (Bayern *)
Bad Köstritz (Thüringen)
Bad Kötzting (Bayern *)
Bad Kreuznach (Rheinland-Pfalz)
Bad Krozingen (Baden-Württemberg *)
Bad Laasphe (Nordrhein-Westfalen)
Bad Langensalza (Thüringen)
Bad Lauchstädt (Sachsen-Anhalt *)
Bad Lausick (Sachsen)
Bad Lauterberg im Harz (Niedersachsen)
Bad Liebenstein (Thüringen)
Bad Liebenwerda (Brandenburg)
Bad Liebenzell (Baden-Württemberg *)
Bad Lippspringe (Nordrhein-Westfalen)
Bad Lobenstein (Thüringen)
Bad Marienberg (Westerwald) (Rheinland-Pfalz)
Bad Mergentheim (Baden-Württemberg *)
Bad Münder am Deister (Niedersachsen)
Bad Münster am Stein-Ebernburg (Rheinland-Pfalz)
Bad Münstereifel (Nordrhein-Westfalen)
Bad Muskau (Sachsen)
Bad Nauheim (Hessen)
Bad Nenndorf (Niedersachsen)
Bad Neuenahr-Ahrweiler (Rheinland-Pfalz)
Bad Neustadt an der Saale (Bayern *)
Bad Oeynhausen (Nordrhein-Westfalen)
Bad Oldesloe (Schleswig-Holstein *)
Bad Orb (Hessen)
Bad Pyrmont (Niedersachsen)
Bad Rappenau (Baden-Württemberg *)
Bad Reichenhall (Bayern *)
Bad Rodach (Bayern *)
Bad Sachsa (Niedersachsen)
Bad Säckingen (Baden-Württemberg *)
Bad Salzdetfurth (Niedersachsen)
Bad Salzuflen (Nordrhein-Westfalen)
Bad Salzungen (Thüringen)
Bad Saulgau (Baden-Württemberg *)
Bad Schandau (Sachsen)
Bad Schmiedeberg (Sachsen-Anhalt *)
Bad Schussenried (Baden-Württemberg *)
Bad Schwalbach (Hessen)
Bad Schwartau (Schleswig-Holstein *)
Bad Segeberg (Schleswig-Holstein *)
Bad Sobernheim (Rheinland-Pfalz)
Bad Soden am Taunus (Hessen)
Bad Soden-Salmünster (Hessen)
Bad Sooden-Allendorf (Hessen)
Bad Staffelstein (Bayern *)
Bad Sulza (Thüringen)
Bad Sülze (Mecklenburg-Vorpommern *)
Bad Teinach-Zavelstein (Baden-Württemberg *)
Bad Tennstedt (Thüringen)
Bad Tölz (Bayern *)
Bad Urach (Baden-Württemberg *)
Bad Vilbel (Hessen)
Bad Waldsee (Baden-Württemberg *)
Bad Wildbad (Baden-Württemberg *)
Bad Wildungen (Hessen)
Bad Wilsnack (Brandenburg)
Bad Wimpfen (Baden-Württemberg *)
Bad Windsheim (Bayern *)
Bad Wörishofen (Bayern *)
Bad Wünnenberg (Nordrhein-Westfalen)
Bad Wurzach (Baden-Württemberg *)
Baesweiler (Nordrhein-Westfalen)
Baiersdorf (Bayern *)
Balingen (Baden-Württemberg *)
Ballenstedt (Sachsen-Anhalt *)
Balve (Nordrhein-Westfalen)
Bamberg (Bayern *)
Barby (Sachsen-Anhalt *)
Bargteheide (Schleswig-Holstein *)
Barmstedt (Schleswig-Holstein *)
Bärnau (Bayern *)
Barntrup (Nordrhein-Westfalen)
Barsinghausen (Niedersachsen)
Barth (Mecklenburg-Vorpommern *)
Baruth/Mark (Brandenburg)
Bassum (Niedersachsen)
Battenberg (Eder) (Hessen)
Baumholder (Rheinland-Pfalz)
Baunach (Bayern *)
Baunatal (Hessen)
Bautzen (Sachsen)
Bayreuth (Bayern *)
Bebra (Hessen)
Beckum (Nordrhein-Westfalen)
Bedburg (Nordrhein-Westfalen)
Beelitz (Brandenburg)
Beerfelden (Hessen)
Beeskow (Brandenburg)
Beilngries (Bayern *)
Beilstein (Baden-Württemberg *)
Belgern (Sachsen)
Bendorf (Rheinland-Pfalz)
Bensheim (Hessen)
Berching (Bayern *)
Berga/Elster (Thüringen)
Bergen (Niedersachsen)
Bergen auf Rügen (Mecklenburg-Vorpommern *)
Bergheim (Nordrhein-Westfalen)
Bergisch Gladbach (Nordrhein-Westfalen)
Bergkamen (Nordrhein-Westfalen)
Bergneustadt (Nordrhein-Westfalen)
Berka/Werra (Thüringen)
Berlin (Land Berlin / Bundeshauptstadt)
Bernau bei Berlin (Brandenburg)
Bernburg (Saale) (Sachsen-Anhalt *)
Bernkastel-Kues (Rheinland-Pfalz)
Bernsdorf (Sachsen)
Bernstadt a. d. Eigen (Sachsen)
Bersenbrück (Niedersachsen)
Besigheim (Baden-Württemberg *)
Betzdorf (Rheinland-Pfalz)
Betzenstein (Bayern *)
Beverungen (Nordrhein-Westfalen)
Bexbach (Saarland)
Biberach an der Riß (Baden-Württemberg *)
Biedenkopf (Hessen)
Bielefeld (Nordrhein-Westfalen)
Biesenthal (Brandenburg)
Bietigheim-Bissingen (Baden-Württemberg *)
Billerbeck (Nordrhein-Westfalen)
Bingen am Rhein (Rheinland-Pfalz)
Birkenfeld (Rheinland-Pfalz)
Bischofsheim an der Rhön (Bayern *)
Bischofswerda (Sachsen)
Bismark (Altmark) (Sachsen-Anhalt *)
Bitburg (Rheinland-Pfalz)
Bitterfeld-Wolfen (Sachsen-Anhalt *)
Blankenburg (Harz) (Sachsen-Anhalt *)
Blankenhain (Thüringen)
Blaubeuren (Baden-Württemberg *)
Bleckede (Niedersachsen)
Bleicherode (Thüringen)
Blieskastel (Saarland)
Blomberg (Nordrhein-Westfalen)
Blumberg (Baden-Württemberg *)
Bobingen (Bayern *)
Böblingen (Baden-Württemberg *)
Bocholt (Nordrhein-Westfalen)
Bochum (Nordrhein-Westfalen)
Bockenem (Niedersachsen)
Bodenwerder (Niedersachsen)
Bogen (Bayern *)
Böhlen (Sachsen)
Boizenburg/Elbe (Mecklenburg-Vorpommern *)
Bonn (Nordrhein-Westfalen)
Bonndorf im Schwarzwald (Baden-Württemberg *)
Bönnigheim (Baden-Württemberg *)
Bopfingen (Baden-Württemberg *)
Boppard (Rheinland-Pfalz)
Borgentreich (Nordrhein-Westfalen)
Borgholzhausen (Nordrhein-Westfalen)
Borken (Nordrhein-Westfalen)
Borken (Hessen) (Hessen)
Borkum (Niedersachsen)
Borna (Sachsen)
Bornheim (Nordrhein-Westfalen)
Bottrop (Nordrhein-Westfalen)
Boxberg (Baden-Württemberg *)
Brackenheim (Baden-Württemberg *)
Brake (Unterweser) (Niedersachsen)
Brakel (Nordrhein-Westfalen)
Bramsche (Niedersachsen)
Brandenburg an der Havel (Brandenburg)
Brand-Erbisdorf (Sachsen)
Brandis (Sachsen)
Braubach (Rheinland-Pfalz)
Braunfels (Hessen)
Braunlage (Niedersachsen)
Bräunlingen (Baden-Württemberg *)
Braunsbedra (Sachsen-Anhalt *)
Braunschweig (Niedersachsen)
Breckerfeld (Nordrhein-Westfalen)
Bredstedt (Schleswig-Holstein *)
Breisach am Rhein (Baden-Württemberg *)
Bremen, Freie Hansestadt (Land Bremen)
Bremerhaven (Land Bremen)
Bremervörde (Niedersachsen)
Bretten (Baden-Württemberg *)
Breuberg (Hessen)
Brilon (Nordrhein-Westfalen)
Brotterode-Trusetal (Thüringen)
Bruchköbel (Hessen)
Bruchsal (Baden-Württemberg *)
Brück (Brandenburg)
Brüel (Mecklenburg-Vorpommern *)
Brühl (Nordrhein-Westfalen)
Brunsbüttel (Schleswig-Holstein *)
Brüssow (Brandenburg)
Buchen (Odenwald) (Baden-Württemberg *)
Buchholz in der Nordheide (Niedersachsen)
Buchloe (Bayern *)
Bückeburg (Niedersachsen)
Buckow (Märkische Schweiz) (Brandenburg)
Büdelsdorf (Schleswig-Holstein *)
Büdingen (Hessen)
Bühl (Baden-Württemberg *)
Bünde (Nordrhein-Westfalen)
Büren (Nordrhein-Westfalen)
Burg (Sachsen-Anhalt *)
Burgau (Bayern *)
Burgbernheim (Bayern *)
Burgdorf (Niedersachsen)
Bürgel (Thüringen)
Burghausen (Bayern *)
Burgkunstadt (Bayern *)
Burglengenfeld (Bayern *)
Burgstädt (Sachsen)
Burg Stargard (Mecklenburg-Vorpommern *)
Burgwedel (Niedersachsen)
Burladingen (Baden-Württemberg *)
Burscheid (Nordrhein-Westfalen)
Bürstadt (Hessen)
Buttelstedt (Thüringen)
Buttstädt (Thüringen)
Butzbach (Hessen)
Bützow (Mecklenburg-Vorpommern *)
Buxtehude (Niedersachsen)
C
Calau (Brandenburg)
Calbe (Saale) (Sachsen-Anhalt *)
Calw (Baden-Württemberg *)
Castrop-Rauxel (Nordrhein-Westfalen)
Celle (Niedersachsen)
Cham (Bayern *)
Chemnitz (Sachsen)
Clausthal-Zellerfeld (Niedersachsen)
Clingen (Thüringen)
Cloppenburg (Niedersachsen)
Coburg (Bayern *)
Cochem (Rheinland-Pfalz)
Coesfeld (Nordrhein-Westfalen)
Colditz (Sachsen)
Coswig (Sachsen)
Coswig (Anhalt) (Sachsen-Anhalt *)
Cottbus (Brandenburg)
Crailsheim (Baden-Württemberg *)
Creglingen (Baden-Württemberg *)
Creußen (Bayern *)
Creuzburg (Thüringen)
Crimmitschau (Sachsen)
Crivitz (Mecklenburg-Vorpommern *)
Cuxhaven (Niedersachsen)
D
Dachau (Bayern *)
Dahlen (Sachsen)
Dahme/Mark (Brandenburg)
Dahn (Rheinland-Pfalz)
Damme (Niedersachsen)
Dannenberg (Elbe) (Niedersachsen)
Dargun (Mecklenburg-Vorpommern *)
Darmstadt (Hessen)
Dassel (Niedersachsen)
Dassow (Mecklenburg-Vorpommern *)
Datteln (Nordrhein-Westfalen)
Daun (Rheinland-Pfalz)
Deggendorf (Bayern *)
Deidesheim (Rheinland-Pfalz)
Delbrück (Nordrhein-Westfalen)
Delitzsch (Sachsen)
Delmenhorst (Niedersachsen)
Demmin, Hansestadt (Mecklenburg-Vorpommern *)
Dessau-Roßlau (Sachsen-Anhalt *)
Detmold (Nordrhein-Westfalen)
Dettelbach (Bayern *)
Dieburg (Hessen)
Diemelstadt (Hessen)
Diepholz (Niedersachsen)
Dierdorf (Rheinland-Pfalz)
Dietenheim (Baden-Württemberg *)
Dietfurt an der Altmühl (Bayern *)
Dietzenbach (Hessen)
Diez (Rheinland-Pfalz)
Dillenburg (Hessen)
Dillingen an der Donau (Bayern *)
E
Ebeleben (Thüringen)
Eberbach (Baden-Württemberg *)
Ebermannstadt (Bayern *)
Ebern (Bayern *)
Ebersbach an der Fils (Baden-Württemberg *)
Ebersbach-Neugersdorf (Sachsen)
Ebersberg (Bayern *)
Eberswalde (Brandenburg)
Eckartsberga (Sachsen-Anhalt *)
Eckernförde (Schleswig-Holstein *)
Edenkoben (Rheinland-Pfalz)
Egeln (Sachsen-Anhalt *)
Eggenfelden (Bayern *)
Eggesin (Mecklenburg-Vorpommern *)
Ehingen (Donau) (Baden-Württemberg *)
Ehrenfriedersdorf (Sachsen)
Eibelstadt (Bayern *)
Eibenstock (Sachsen)
Eichstätt (Bayern *)
Eilenburg (Sachsen)
Einbeck (Niedersachsen)
Eisenach (Thüringen)
Eisenberg (Thüringen)
Eisenberg (Pfalz) (Rheinland-Pfalz)
Eisenhüttenstadt (Brandenburg)
Eisfeld (Thüringen)
Eisleben, Lutherstadt (Sachsen-Anhalt *)
Eislingen/Fils (Baden-Württemberg *)
Ellingen (Bayern *)
Ellrich (Thüringen)
Ellwangen (Jagst) (Baden-Württemberg *)
Elmshorn (Schleswig-Holstein *)
Elsdorf (Nordrhein-Westfalen)
Elsfleth (Niedersachsen)
Elsterberg (Sachsen)
Elsterwerda (Brandenburg)
Elstra (Sachsen)
Elterlein (Sachsen)
Eltmann (Bayern *)
Eltville am Rhein (Hessen)
Elzach (Baden-Württemberg *)
Elze (Niedersachsen)
Emden (Niedersachsen)
Emmelshausen (Rheinland-Pfalz)
Emmendingen (Baden-Württemberg *)
Emmerich am Rhein (Nordrhein-Westfalen)
Emsdetten (Nordrhein-Westfalen)
Endingen am Kaiserstuhl (Baden-Württemberg *)
Engen (Baden-Württemberg *)
Enger (Nordrhein-Westfalen)
Ennepetal (Nordrhein-Westfalen)
Ennigerloh (Nordrhein-Westfalen)
Eppelheim (Baden-Württemberg *)
Eppingen (Baden-Württemberg *)
Eppstein (Hessen)
Erbach (Baden-Württemberg *)
Erbach (Odenwald) (Hessen)
Erbendorf (Bayern *)
Erding (Bayern *)
Erftstadt (Nordrhein-Westfalen)
Erfurt (Landeshauptstadt Thüringen)
Erkelenz (Nordrhein-Westfalen)
Erkner (Brandenburg)
Erkrath (Nordrhein-Westfalen)
Erlangen (Bayern *)
Erlenbach am Main (Bayern *)
Erwitte (Nordrhein-Westfalen)
Eschborn (Hessen)
Eschenbach in der Oberpfalz (Bayern *)
Eschershausen (Niedersachsen)
Eschwege (Hessen)
Eschweiler (Nordrhein-Westfalen)
Esens (Niedersachsen)
Espelkamp (Nordrhein-Westfalen)
Essen (Nordrhein-Westfalen)
Esslingen am Neckar (Baden-Württemberg *)
Ettenheim (Baden-Württemberg *)
Ettlingen (Baden-Württemberg *)
Euskirchen (Nordrhein-Westfalen)
Eutin (Schleswig-Holstein *)
F
Falkenberg/Elster (Brandenburg)
Falkensee (Brandenburg)
Falkenstein/Harz (Sachsen-Anhalt *)
Falkenstein/Vogtl. (Sachsen)
Fehmarn (Schleswig-Holstein *)
Fellbach (Baden-Württemberg *)
Felsberg (Hessen)
Feuchtwangen (Bayern *)
Filderstadt (Baden-Württemberg *)
Finsterwalde (Brandenburg)
Fladungen (Bayern *)
Flensburg (Schleswig-Holstein *)
Flöha (Sachsen)
Flörsheim am Main (Hessen)
Florstadt (Hessen)
Forchheim (Bayern *)
Forchtenberg (Baden-Württemberg *)
Forst (Lausitz) (Brandenburg)
Frankenau (Hessen)
Frankenberg (Eder) (Hessen)
Frankenberg/Sa. (Sachsen)
Frankenthal (Pfalz) (Rheinland-Pfalz)
Frankfurt am Main (Hessen)
Frankfurt (Oder) (Brandenburg)
Franzburg (Mecklenburg-Vorpommern *)
Frauenstein (Sachsen)
Frechen (Nordrhein-Westfalen)
Freiberg am Neckar (Baden-Württemberg *)
Freiberg (Sachsen)
Freiburg im Breisgau (Baden-Württemberg *)
Freilassing (Bayern *)
Freinsheim (Rheinland-Pfalz)
Freising (Bayern *)
Freital (Sachsen)
Freren (Niedersachsen)
Freudenberg (Baden-Württemberg *)
Freudenberg (Nordrhein-Westfalen)
Freudenstadt (Baden-Württemberg *)
Freyburg (Unstrut) (Sachsen-Anhalt *)
Freystadt (Bayern *)
Freyung (Bayern *)
Fridingen an der Donau (Baden-Württemberg *)
Friedberg (Bayern *)
Friedberg (Hessen) (Hessen)
Friedland (Mecklenburg-Vorpommern *)
Friedland (Brandenburg)
Friedrichroda (Thüringen)
Friedrichsdorf (Hessen)
Friedrichshafen (Baden-Württemberg *)
Friedrichstadt (Schleswig-Holstein *)
Friedrichsthal (Saarland)
Friesack (Brandenburg)
Friesoythe (Niedersachsen)
Fritzlar (Hessen)
Frohburg (Sachsen)
Fröndenberg/Ruhr (Nordrhein-Westfalen)
Fulda (Hessen)
Fürstenau (Niedersachsen)
Fürstenberg/Havel (Brandenburg)
Fürstenfeldbruck (Bayern *)
Fürstenwalde/Spree (Brandenburg)
Fürth (Bayern *)
Furth im Wald (Bayern *)
Furtwangen im Schwarzwald (Baden-Württemberg *)
Füssen (Bayern *)
G
Gadebusch (Mecklenburg-Vorpommern *)
Gaggenau (Baden-Württemberg *)
Gaildorf (Baden-Württemberg *)
Gammertingen (Baden-Württemberg *)
Garbsen (Niedersachsen)
Garching bei München (Bayern *)
Gardelegen (Sachsen-Anhalt *)
Garding (Schleswig-Holstein *)
Gartz (Oder) (Brandenburg)
Garz/Rügen (Mecklenburg-Vorpommern *)
Gau-Algesheim (Rheinland-Pfalz)
Gebesee (Thüringen)
Gedern (Hessen)
Geesthacht (Schleswig-Holstein *)
Gefell (Thüringen)
Gefrees (Bayern *)
Gehrden (Niedersachsen)
Gehren (Thüringen)
Geilenkirchen (Nordrhein-Westfalen)
Geisa (Thüringen)
Geiselhöring (Bayern *)
Geisenfeld (Bayern *)
Geisenheim (Hessen)
Geisingen (Baden-Württemberg *)
Geislingen (Baden-Württemberg *)
Geislingen an der Steige (Baden-Württemberg *)
Geithain (Sachsen)
Geldern (Nordrhein-Westfalen)
Gelnhausen (Hessen)
Gelsenkirchen (Nordrhein-Westfalen)
Gemünden am Main (Bayern *)
Gemünden (Wohra) (Hessen)
Gengenbach (Baden-Württemberg *)
Genthin (Sachsen-Anhalt *)
Georgsmarienhütte (Niedersachsen)
Gera (Thüringen)
Gerabronn (Baden-Württemberg *)
Gerbstedt (Sachsen-Anhalt *)
Geretsried (Bayern *)
Geringswalde (Sachsen)
Gerlingen (Baden-Württemberg *)
Germering (Bayern *)
Germersheim (Rheinland-Pfalz)
Gernsbach (Baden-Württemberg *)
Gernsheim (Hessen)
Gerolstein (Rheinland-Pfalz)
Gerolzhofen (Bayern *)
Gersfeld (Rhön) (Hessen)
Gersthofen (Bayern *)
Gescher (Nordrhein-Westfalen)
Geseke (Nordrhein-Westfalen)
Gevelsberg (Nordrhein-Westfalen)
Geyer (Sachsen)
Giengen an der Brenz (Baden-Württemberg *)
Gießen (Hessen)
Gifhorn (Niedersachsen)
Gladbeck (Nordrhein-Westfalen)
Gladenbach (Hessen)
Glashütte (Sachsen)
Glauchau (Sachsen)
Glinde (Schleswig-Holstein *)
Glücksburg (Ostsee) (Schleswig-Holstein *)
Glückstadt (Schleswig-Holstein *)
Gnoien (Mecklenburg-Vorpommern *)
Goch (Nordrhein-Westfalen)
Goldberg (Mecklenburg-Vorpommern *)
Goldkronach (Bayern *)
Golßen (Brandenburg)
Gommern (Sachsen-Anhalt *)
Göppingen (Baden-Württemberg *)
Görlitz (Sachsen)
Goslar (Niedersachsen)
Gößnitz (Thüringen)
Gotha (Thüringen)
Göttingen (Niedersachsen)
Grabow (Mecklenburg-Vorpommern *)
Grafenau (Bayern *)
Gräfenberg (Bayern *)
Gräfenhainichen (Sachsen-Anhalt *)
Gräfenthal (Thüringen)
Grafenwöhr (Bayern *)
Grafing bei München (Bayern *)
Gransee (Brandenburg)
Grebenau (Hessen)
Grebenstein (Hessen)
Greding (Bayern *)
Greifswald, Hansestadt (Mecklenburg-Vorpommern *)
Greiz (Thüringen)
Greußen (Thüringen)
Greven (Nordrhein-Westfalen)
Grevenbroich (Nordrhein-Westfalen)
Grevesmühlen (Mecklenburg-Vorpommern *)
Griesheim (Hessen)
Grimma (Sachsen)
Grimmen (Mecklenburg-Vorpommern *)
Gröditz (Sachsen)
Groitzsch (Sachsen)
Gronau (Leine) (Niedersachsen)
Gronau (Westf.) (Nordrhein-Westfalen)
Gröningen (Sachsen-Anhalt *)
Großalmerode (Hessen)
Groß-Bieberau (Hessen)
Großbottwar (Baden-Württemberg *)
Großbreitenbach (Thüringen)
Großenehrich (Thüringen)
Großenhain (Sachsen)
Groß-Gerau (Hessen)
Großräschen (Brandenburg)
Großröhrsdorf (Sachsen)
Großschirma (Sachsen)
Groß-Umstadt (Hessen)
Grünberg (Hessen)
Grünhain-Beierfeld (Sachsen)
Grünsfeld (Baden-Württemberg *)
Grünstadt (Rheinland-Pfalz)
Guben (Brandenburg)
Gudensberg (Hessen)
Güglingen (Baden-Württemberg *)
Gummersbach (Nordrhein-Westfalen)
Gundelfingen an der Donau (Bayern *)
Gundelsheim (Baden-Württemberg *)
Günzburg (Bayern *)
Gunzenhausen (Bayern *)
Güsten (Sachsen-Anhalt *)
Güstrow (Mecklenburg-Vorpommern *)
Gütersloh (Nordrhein-Westfalen)
Gützkow (Mecklenburg-Vorpommern *)
H
Haan (Nordrhein-Westfalen)
Hachenburg (Rheinland-Pfalz)
Hadamar (Hessen)
Hagen (Nordrhein-Westfalen)
Hagenbach (Rheinland-Pfalz)
Hagenow (Mecklenburg-Vorpommern *)
Haiger (Hessen)
Haigerloch (Baden-Württemberg *)
Hainichen (Sachsen)
Haiterbach (Baden-Württemberg *)
Halberstadt (Sachsen-Anhalt *)
Haldensleben (Sachsen-Anhalt *)
Halle (Saale) (Sachsen-Anhalt *)
Halle (Westf.) (Nordrhein-Westfalen)
Hallenberg (Nordrhein-Westfalen)
Hallstadt (Bayern *)
Haltern am See (Nordrhein-Westfalen)
Halver (Nordrhein-Westfalen)
Hamburg, Freie und Hansestadt (Hamburg)
Hameln (Niedersachsen)
Hamm (Nordrhein-Westfalen)
Hammelburg (Bayern *)
Hamminkeln (Nordrhein-Westfalen)
Hanau (Hessen)
Hannover (Landeshauptstadt Niedersachsen)
Hann. Münden (Niedersachsen)
Harburg (Schwaben) (Bayern *)
Hardegsen (Niedersachsen)
Haren (Ems) (Niedersachsen)
Harsewinkel (Nordrhein-Westfalen)
Hartenstein (Sachsen)
Hartha (Sachsen)
Harzgerode (Sachsen-Anhalt *)
Haselünne (Niedersachsen)
Haslach im Kinzigtal (Baden-Württemberg *)
Haßfurt (Bayern *)
Hattersheim am Main (Hessen)
Hattingen (Nordrhein-Westfalen)
Hatzfeld (Eder) (Hessen)
Hausach (Baden-Württemberg *)
Hauzenberg (Bayern *)
Havelberg (Sachsen-Anhalt *)
Havelsee (Brandenburg)
Hayingen (Baden-Württemberg *)
Hechingen (Baden-Württemberg *)
Hecklingen (Sachsen-Anhalt *)
Heide (Schleswig-Holstein *)
Heideck (Bayern *)
Heidelberg (Baden-Württemberg *)
Heidenau (Sachsen)
Heidenheim an der Brenz (Baden-Württemberg *)
Heilbad Heiligenstadt (Thüringen)
Heilbronn (Baden-Württemberg *)
Heiligenhafen (Schleswig-Holstein *)
Heiligenhaus (Nordrhein-Westfalen)
Heilsbronn (Bayern *)
Heimbach (Nordrhein-Westfalen)
Heimsheim (Baden-Württemberg *)
Heinsberg (Nordrhein-Westfalen)
Heitersheim (Baden-Württemberg *)
Heldrungen (Thüringen)
Helmbrechts (Bayern *)
Helmstedt (Niedersachsen)
Hemau (Bayern *)
Hemer (Nordrhein-Westfalen)
Hemmingen (Niedersachsen)
Hemmoor (Niedersachsen)
Hemsbach (Baden-Württemberg *)
Hennef (Sieg) (Nordrhein-Westfalen)
Hennigsdorf (Brandenburg)
Heppenheim (Bergstraße) (Hessen)
Herbolzheim (Baden-Württemberg *)
Herborn (Hessen)
Herbrechtingen (Baden-Württemberg *)
Herbstein (Hessen)
Herdecke (Nordrhein-Westfalen)
Herdorf (Rheinland-Pfalz)
Herford (Nordrhein-Westfalen)
Heringen/Helme (Thüringen)
Heringen (Werra) (Hessen)
Hermeskeil (Rheinland-Pfalz)
Hermsdorf (Thüringen)
Herne (Nordrhein-Westfalen)
Herrenberg (Baden-Württemberg *)
Herrieden (Bayern *)
Herrnhut (Sachsen)
Hersbruck (Bayern *)
Herten (Nordrhein-Westfalen)
Herzberg am Harz (Niedersachsen)
Herzberg (Elster) (Brandenburg)
Herzogenaurach (Bayern *)
Herzogenrath (Nordrhein-Westfalen)
Hessisch Lichtenau (Hessen)
Hessisch Oldendorf (Niedersachsen)
Hettingen (Baden-Württemberg *)
Hettstedt (Sachsen-Anhalt *)
Heubach (Baden-Württemberg *)
Heusenstamm (Hessen)
Hilchenbach (Nordrhein-Westfalen)
Hildburghausen (Thüringen)
Hilden (Nordrhein-Westfalen)
Hildesheim (Niedersachsen)
Hillesheim (Rheinland-Pfalz)
Hilpoltstein (Bayern *)
Hirschau (Bayern *)
Hirschberg (Thüringen)
Hirschhorn (Neckar) (Hessen)
Hitzacker (Elbe) (Niedersachsen)
Hochheim am Main (Hessen)
Höchstadt an der Aisch (Bayern *)
Höchstädt an der Donau (Bayern *)
Hockenheim (Baden-Württemberg *)
Hof (Bayern *)
Hofgeismar (Hessen)
Hofheim am Taunus (Hessen)
Hofheim in Unterfranken (Bayern *)
Hohenberg an der Eger (Bayern *)
Hohenleuben (Thüringen)
Hohenmölsen (Sachsen-Anhalt *)
Hohen Neuendorf (Brandenburg)
Hohenstein-Ernstthal (Sachsen)
Hohnstein (Sachsen)
Höhr-Grenzhausen (Rheinland-Pfalz)
Hollfeld (Bayern *)
Holzgerlingen (Baden-Württemberg *)
Holzminden (Niedersachsen)
Homberg (Efze) (Hessen)
Homberg (Ohm) (Hessen)
Homburg (Saarland)
Horb am Neckar (Baden-Württemberg *)
Hornbach (Rheinland-Pfalz)
Horn-Bad Meinberg (Nordrhein-Westfalen)
Hornberg (Baden-Württemberg *)
Hornburg (Niedersachsen)
Hörstel (Nordrhein-Westfalen)
Horstmar (Nordrhein-Westfalen)
Höxter (Nordrhein-Westfalen)
Hoya (Niedersachsen)
Hoyerswerda (Sachsen)
Hückelhoven (Nordrhein-Westfalen)
Hückeswagen (Nordrhein-Westfalen)
Hüfingen (Baden-Württemberg *)
Hünfeld (Hessen)
Hungen (Hessen)
Hürth (Nordrhein-Westfalen)
Husum (Schleswig-Holstein *)
I
Ibbenbüren (Nordrhein-Westfalen)
Ichenhausen (Bayern *)
Idar-Oberstein (Rheinland-Pfalz)
Idstein (Hessen)
Illertissen (Bayern *)
Ilmenau (Thüringen)
Ilsenburg (Harz) (Sachsen-Anhalt *)
Ilshofen (Baden-Württemberg *)
Immenhausen (Hessen)
Immenstadt im Allgäu (Bayern *)
Ingelfingen (Baden-Württemberg *)
Ingelheim am Rhein (Rheinland-Pfalz)
Ingolstadt (Bayern *)
Iphofen (Bayern *)
Iserlohn (Nordrhein-Westfalen)
Isny im Allgäu (Baden-Württemberg *)
Isselburg (Nordrhein-Westfalen)
Itzehoe (Schleswig-Holstein *)
J
Jarmen (Mecklenburg-Vorpommern *)
Jena (Thüringen)
Jerichow (Sachsen-Anhalt *)
Jessen (Elster) (Sachsen-Anhalt *)
Jever (Niedersachsen)
Joachimsthal (Brandenburg)
Johanngeorgenstadt (Sachsen)
Jöhstadt (Sachsen)
Jülich (Nordrhein-Westfalen)
Jüterbog (Brandenburg)
K
Kaarst (Nordrhein-Westfalen)
Kahla (Thüringen)
Kaisersesch (Rheinland-Pfalz)
Kaiserslautern (Rheinland-Pfalz)
Kalbe (Milde) (Sachsen-Anhalt *)
Kalkar (Nordrhein-Westfalen)
Kaltenkirchen (Schleswig-Holstein *)
Kaltennordheim (Thüringen)
Kamen (Nordrhein-Westfalen)
Kamenz (Sachsen)
Kamp-Lintfort (Nordrhein-Westfalen)
Kandel (Rheinland-Pfalz)
Kandern (Baden-Württemberg *)
Kappeln (Schleswig-Holstein *)
Karben (Hessen)
Karlsruhe (Baden-Württemberg *)
Karlstadt (Bayern *)
Kassel (Hessen)
Kastellaun (Rheinland-Pfalz)
Katzenelnbogen (Rheinland-Pfalz)
Kaub (Rheinland-Pfalz)
Kaufbeuren (Bayern *)
Kehl (Baden-Württemberg *)
Kelbra (Kyffhäuser) (Sachsen-Anhalt *)
Kelheim (Bayern *)
Kelkheim (Taunus) (Hessen)
Kellinghusen (Schleswig-Holstein *)
Kelsterbach (Hessen)
Kemberg (Sachsen-Anhalt *)
Kemnath (Bayern *)
Kempen (Nordrhein-Westfalen)
Kempten (Allgäu) (Bayern *)
Kenzingen (Baden-Württemberg *)
Kerpen (Nordrhein-Westfalen)
Ketzin/Havel (Brandenburg)
Kevelaer (Nordrhein-Westfalen)
Kiel (Landeshauptstadt Schleswig-Holstein *)
Kierspe (Nordrhein-Westfalen)
Kindelbrück (Thüringen)
Kirchberg (Sachsen)
Kirchberg an der Jagst (Baden-Württemberg *)
Kirchberg (Hunsrück) (Rheinland-Pfalz)
Kirchen (Sieg) (Rheinland-Pfalz)
Kirchenlamitz (Bayern *)
Kirchhain (Hessen)
Kirchheimbolanden (Rheinland-Pfalz)
Kirchheim unter Teck (Baden-Württemberg *)
Kirn (Rheinland-Pfalz)
Kirtorf (Hessen)
Kitzingen (Bayern *)
Kitzscher (Sachsen)
Kleve (Nordrhein-Westfalen)
Klingenberg am Main (Bayern *)
Klingenthal (Sachsen)
Klötze (Sachsen-Anhalt *)
Klütz (Mecklenburg-Vorpommern *)
Knittlingen (Baden-Württemberg *)
Koblenz (Rheinland-Pfalz)
Kohren-Sahlis (Sachsen)
Kolbermoor (Bayern *)
Kölleda (Thüringen)
Köln (Nordrhein-Westfalen)
Königsberg in Bayern * (Bayern *)
Königsbrück (Sachsen)
Königsbrunn (Bayern *)
Königsee (Thüringen)
Königslutter am Elm (Niedersachsen)
Königstein im Taunus (Hessen)
Königstein (Sächsische Schweiz) (Sachsen)
Königswinter (Nordrhein-Westfalen)
Königs Wusterhausen (Brandenburg)
Könnern (Sachsen-Anhalt *)
Konstanz (Baden-Württemberg *)
Konz (Rheinland-Pfalz)
Korbach (Hessen)
Korntal-Münchingen (Baden-Württemberg *)
Kornwestheim (Baden-Württemberg *)
Korschenbroich (Nordrhein-Westfalen)
Köthen (Anhalt) (Sachsen-Anhalt *)
Kraichtal (Baden-Württemberg *)
Krakow am See (Mecklenburg-Vorpommern *)
Kranichfeld (Thüringen)
Krautheim (Baden-Württemberg *)
Krefeld (Nordrhein-Westfalen)
Kremmen (Brandenburg)
Krempe (Schleswig-Holstein *)
Kreuztal (Nordrhein-Westfalen)
Kronach (Bayern *)
Kronberg im Taunus (Hessen)
Kröpelin (Mecklenburg-Vorpommern *)
Kroppenstedt (Sachsen-Anhalt *)
Krumbach (Schwaben) (Bayern *)
Kühlungsborn (Mecklenburg-Vorpommern *)
Kulmbach (Bayern *)
Külsheim (Baden-Württemberg *)
Künzelsau (Baden-Württemberg *)
Kupferberg (Bayern *)
Kuppenheim (Baden-Württemberg *)
Kusel (Rheinland-Pfalz)
Kyllburg (Rheinland-Pfalz)
Kyritz (Brandenburg)
L
Laage (Mecklenburg-Vorpommern *)
Laatzen (Niedersachsen)
Ladenburg (Baden-Württemberg *)
Lage (Nordrhein-Westfalen)
Lahnstein (Rheinland-Pfalz)
Lahr/Schwarzwald (Baden-Württemberg *)
Laichingen (Baden-Württemberg *)
Lambrecht (Pfalz) (Rheinland-Pfalz)
Lampertheim (Hessen)
Landau an der Isar (Bayern *)
Landau in der Pfalz (Rheinland-Pfalz)
Landsberg am Lech (Bayern *)
Landsberg (Sachsen-Anhalt *)
Landshut (Bayern *)
Landstuhl (Rheinland-Pfalz)
Langelsheim (Niedersachsen)
Langen (Niedersachsen)
Langen (Hessen) (Hessen)
Langenau (Baden-Württemberg *)
Langenburg (Baden-Württemberg *)
Langenfeld (Rheinland) (Nordrhein-Westfalen)
Langenhagen (Niedersachsen)
Langenselbold (Hessen)
Langenzenn (Bayern *)
Langewiesen (Thüringen)
Lassan (Mecklenburg-Vorpommern *)
Laubach (Hessen)
Laucha an der Unstrut (Sachsen-Anhalt *)
Lauchhammer (Brandenburg)
Lauchheim (Baden-Württemberg *)
Lauda-Königshofen (Baden-Württemberg *)
Lauenburg/Elbe (Schleswig-Holstein *)
Lauf an der Pegnitz (Bayern *)
Laufen (Bayern *)
Laufenburg (Baden) (Baden-Württemberg *)
Lauffen am Neckar (Baden-Württemberg *)
Lauingen (Donau) (Bayern *)
Laupheim (Baden-Württemberg *)
Lauscha (Thüringen)
Lauta (Sachsen)
Lauter/Sa. (Sachsen)
Lauterbach (Hessen) (Hessen)
Lauterecken (Rheinland-Pfalz)
Lauterstein (Baden-Württemberg *)
Lebach (Saarland)
Lebus (Brandenburg)
Leer (Ostfriesland) (Niedersachsen)
Lehesten (Thüringen)
Lehrte (Niedersachsen)
Leichlingen (Rheinland) (Nordrhein-Westfalen)
Leimen (Baden-Württemberg *)
Leinefelde-Worbis (Thüringen)
Leinfelden-Echterdingen (Baden-Württemberg *)
Leipheim (Bayern *)
Leipzig (Sachsen)
Leisnig (Sachsen)
Lemgo (Nordrhein-Westfalen)
Lengefeld (Sachsen)
Lengenfeld (Sachsen)
Lengerich (Nordrhein-Westfalen)
Lennestadt (Nordrhein-Westfalen)
Lenzen (Brandenburg)
Leonberg (Baden-Württemberg *)
Leun (Hessen)
Leuna (Sachsen-Anhalt *)
Leutenberg (Thüringen)
Leutershausen (Bayern *)
Leutkirch im Allgäu (Baden-Württemberg *)
Leverkusen (Nordrhein-Westfalen)
Lich (Hessen)
Lichtenau (Baden-Württemberg *)
Lichtenau (Nordrhein-Westfalen)
Lichtenberg (Bayern *)
Lichtenfels (Bayern *)
Lichtenfels (Hessen)
Lichtenstein/Sa. (Sachsen)
Liebenau (Hessen)
Liebenwalde (Brandenburg)
Lieberose (Brandenburg)
Liebstadt (Sachsen)
Limbach-Oberfrohna (Sachsen)
Limburg an der Lahn (Hessen)
Lindau (Bodensee) (Bayern *)
Linden (Hessen)
Lindenberg im Allgäu (Bayern *)
Lindenfels (Hessen)
Lindow (Mark) (Brandenburg)
Lingen (Ems) (Niedersachsen)
Linnich (Nordrhein-Westfalen)
Linz am Rhein (Rheinland-Pfalz)
Lippstadt (Nordrhein-Westfalen)
Löbau (Sachsen)
Löffingen (Baden-Württemberg *)
Lohmar (Nordrhein-Westfalen)
Lohne (Oldenburg) (Niedersachsen)
Löhne (Nordrhein-Westfalen)
Lohr am Main (Bayern *)
Loitz (Mecklenburg-Vorpommern *)
Lollar (Hessen)
Lommatzsch (Sachsen)
Löningen (Niedersachsen)
Lorch (Baden-Württemberg *)
Lorch (Hessen)
Lörrach (Baden-Württemberg *)
Lorsch (Hessen)
Lößnitz (Sachsen)
Löwenstein (Baden-Württemberg *)
Lübbecke (Nordrhein-Westfalen)
Lübben (Spreewald) (Brandenburg)
Lübbenau/Spreewald (Brandenburg)
Lübeck, Hansestadt (Schleswig-Holstein *)
Lübtheen (Mecklenburg-Vorpommern *)
Lübz (Mecklenburg-Vorpommern *)
Lüchow (Wendland) (Niedersachsen)
Lucka (Thüringen)
Luckau (Brandenburg)
Luckenwalde (Brandenburg)
Lüdenscheid (Nordrhein-Westfalen)
Lüdinghausen (Nordrhein-Westfalen)
Ludwigsburg (Baden-Württemberg *)
Ludwigsfelde (Brandenburg)
Ludwigshafen am Rhein (Rheinland-Pfalz)
Ludwigslust (Mecklenburg-Vorpommern *)
Ludwigsstadt (Bayern *)
Lugau/Erzgeb. (Sachsen)
Lügde (Nordrhein-Westfalen)
Lüneburg, Hansestadt (Niedersachsen)
Lünen (Nordrhein-Westfalen)
Lunzenau (Sachsen)
Lütjenburg (Schleswig-Holstein *)
Lützen (Sachsen-Anhalt *)
Lychen (Brandenburg)
M
Magdala (Thüringen)
Magdeburg (Landeshauptstadt Sachs.-A.)
Mahlberg (Baden-Württemberg *)
Mainbernheim (Bayern *)
Mainburg (Bayern *)
Maintal (Hessen)
Mainz (Landeshauptstadt Rheinland-Pf.)
Malchin (Mecklenburg-Vorpommern *)
Malchow (Mecklenburg-Vorpommern *)
Mannheim (Baden-Württemberg *)
Manderscheid (Rheinland-Pfalz)
Mansfeld (Sachsen-Anhalt *)
Marbach am Neckar (Baden-Württemberg *)
Marburg (Hessen)
Marienberg (Sachsen)
Marienmünster (Nordrhein-Westfalen)
Markdorf (Baden-Württemberg *)
Markgröningen (Baden-Württemberg *)
Märkisch Buchholz (Brandenburg)
Markkleeberg (Sachsen)
Markneukirchen (Sachsen)
Markranstädt (Sachsen)
Marktbreit (Bayern *)
Marktheidenfeld (Bayern *)
Marktleuthen (Bayern *)
Marktoberdorf (Bayern *)
Marktredwitz (Bayern *)
Marktsteft (Bayern *)
Marl (Nordrhein-Westfalen)
Marlow (Mecklenburg-Vorpommern *)
Marne (Schleswig-Holstein *)
Marsberg (Nordrhein-Westfalen)
Maulbronn (Baden-Württemberg *)
Maxhütte-Haidhof (Bayern *)
Mayen (Rheinland-Pfalz)
Mechernich (Nordrhein-Westfalen)
Meckenheim (Nordrhein-Westfalen)
Medebach (Nordrhein-Westfalen)
Meerane (Sachsen)
Meerbusch (Nordrhein-Westfalen)
Meersburg (Baden-Württemberg *)
Meinerzhagen (Nordrhein-Westfalen)
Meiningen (Thüringen)
Meisenheim (Rheinland-Pfalz)
Meißen (Sachsen)
Meldorf (Schleswig-Holstein *)
Melle (Niedersachsen)
Mellrichstadt (Bayern *)
Melsungen (Hessen)
Memmingen (Bayern *)
Menden (Sauerland) (Nordrhein-Westfalen)
Mendig (Rheinland-Pfalz)
Mengen (Baden-Württemberg *)
Meppen (Niedersachsen)
Merkendorf (Bayern *)
Merseburg (Sachsen-Anhalt *)
Merzig (Saarland)
Meschede (Nordrhein-Westfalen)
Meßkirch (Baden-Württemberg *)
Meßstetten (Baden-Württemberg *)
Mettmann (Nordrhein-Westfalen)
Metzingen (Baden-Württemberg *)
Meuselwitz (Thüringen)
Meyenburg (Brandenburg)
Michelstadt (Hessen)
Miesbach (Bayern *)
Miltenberg (Bayern *)
Mindelheim (Bayern *)
Minden (Nordrhein-Westfalen)
Mirow (Mecklenburg-Vorpommern *)
Mittenwalde (Brandenburg)
Mitterteich (Bayern *)
Mittweida (Sachsen)
Möckern (Sachsen-Anhalt *)
Möckmühl (Baden-Württemberg *)
Moers (Nordrhein-Westfalen)
Mölln (Schleswig-Holstein *)
Mönchengladbach (Nordrhein-Westfalen)
Monheim am Rhein (Nordrhein-Westfalen)
Monheim (Bayern *)
Monschau (Nordrhein-Westfalen)
Montabaur (Rheinland-Pfalz)
Moosburg an der Isar (Bayern *)
Mörfelden-Walldorf (Hessen)
Moringen (Niedersachsen)
Mosbach (Baden-Württemberg *)
Mössingen (Baden-Württemberg *)
Mücheln (Geiseltal) (Sachsen-Anhalt *)
Mügeln (Sachsen)
Mühlacker (Baden-Württemberg *)
Mühlberg/Elbe (Brandenburg)
Mühldorf am Inn (Bayern *)
Mühlhausen/Thüringen (Thüringen)
Mühlheim am Main (Hessen)
Mühlheim an der Donau (Baden-Württemberg *)
Mühltroff (Sachsen)
Mülheim an der Ruhr (Nordrhein-Westfalen)
Mülheim-Kärlich (Rheinland-Pfalz)
Müllheim (Baden-Württemberg *)
Müllrose (Brandenburg)
Münchberg (Bayern *)
Müncheberg (Brandenburg)
München (Landeshauptstadt Bayern *)
Münchenbernsdorf (Thüringen)
Munderkingen (Baden-Württemberg *)
Münnerstadt (Bayern *)
Münsingen (Baden-Württemberg *)
Munster (Niedersachsen)
Münster (Nordrhein-Westfalen)
Münstermaifeld (Rheinland-Pfalz)
Münzenberg (Hessen)
Murrhardt (Baden-Württemberg *)
Mylau (Sachsen)
N
Nabburg (Bayern *)
Nagold (Baden-Württemberg *)
Naila (Bayern *)
Nassau (Rheinland-Pfalz)
Nastätten (Rheinland-Pfalz)
Nauen (Brandenburg)
Naumburg (Hessen)
Naumburg (Saale) (Sachsen-Anhalt *)
Naunhof (Sachsen)
Nebra (Unstrut) (Sachsen-Anhalt *)
Neckarbischofsheim (Baden-Württemberg *)
Neckargemünd (Baden-Württemberg *)
Neckarsteinach (Hessen)
Neckarsulm (Baden-Württemberg *)
Neresheim (Baden-Württemberg *)
Netphen (Nordrhein-Westfalen)
Nettetal (Nordrhein-Westfalen)
Netzschkau (Sachsen)
Neu-Anspach (Hessen)
Neubrandenburg (Mecklenburg-Vorpommern *)
Neubukow (Mecklenburg-Vorpommern *)
Neubulach (Baden-Württemberg *)
Neuburg an der Donau (Bayern *)
Neudenau (Baden-Württemberg *)
Neuenbürg (Baden-Württemberg *)
Neuenburg am Rhein (Baden-Württemberg *)
Neuenhaus (Niedersachsen)
Neuenrade (Nordrhein-Westfalen)
Neuenstadt am Kocher (Baden-Württemberg *)
Neuenstein (Baden-Württemberg *)
Neuerburg (Rheinland-Pfalz)
Neuffen (Baden-Württemberg *)
Neuhaus am Rennweg (Thüringen)
Neu-Isenburg (Hessen)
Neukalen (Mecklenburg-Vorpommern *)
Neukirchen (Hessen)
Neukirchen-Vluyn (Nordrhein-Westfalen)
Neukloster (Mecklenburg-Vorpommern *)
Neumark (Thüringen)
Neumarkt in der Oberpfalz (Bayern *)
Neumarkt-Sankt Veit (Bayern *)
Neumünster (Schleswig-Holstein *)
Neunburg vorm Wald (Bayern *)
Neunkirchen (Saarland)
Neuötting (Bayern *)
Neuruppin (Brandenburg)
Neusalza-Spremberg (Sachsen)
Neusäß (Bayern *)
Neuss (Nordrhein-Westfalen)
Neustadt an der Aisch (Bayern *)
Neustadt an der Donau (Bayern *)
Neustadt an der Waldnaab (Bayern *)
Neustadt am Kulm (Bayern *)
Neustadt am Rübenberge (Niedersachsen)
Neustadt an der Orla (Thüringen)
Neustadt an der Weinstraße (Rheinland-Pfalz)
Neustadt bei Coburg (Bayern *)
Neustadt (Dosse) (Brandenburg)
Neustadt-Glewe (Mecklenburg-Vorpommern *)
Neustadt (Hessen) (Hessen)
Neustadt in Holstein (Schleswig-Holstein *)
Neustadt in Sachsen (Sachsen)
Neustrelitz (Mecklenburg-Vorpommern *)
Neutraubling (Bayern *)
Neu-Ulm (Bayern *)
Neuwied (Rheinland-Pfalz)
Nidda (Hessen)
Niddatal (Hessen)
Nidderau (Hessen)
Nideggen (Nordrhein-Westfalen)
Niebüll (Schleswig-Holstein *)
Niedenstein (Hessen)
Niederkassel (Nordrhein-Westfalen)
Niedernhall (Baden-Württemberg *)
Nieder-Olm (Rheinland-Pfalz)
Niederstetten (Baden-Württemberg *)
Niederstotzingen (Baden-Württemberg *)
Nieheim (Nordrhein-Westfalen)
Niemegk (Brandenburg)
Nienburg (Saale) (Sachsen-Anhalt *)
Nienburg/Weser (Niedersachsen)
Niesky (Sachsen)
Nittenau (Bayern *)
Norden (Niedersachsen)
Nordenham (Niedersachsen)
Norderney (Niedersachsen)
Norderstedt (Schleswig-Holstein *)
Nordhausen (Thüringen)
Nordhorn (Niedersachsen)
Nördlingen (Bayern *)
Northeim (Niedersachsen)
Nortorf (Schleswig-Holstein *)
Nossen (Sachsen)
Nürnberg (Bayern *)
Nürtingen (Baden-Württemberg *)
O
Oberasbach (Bayern *)
Oberharz am Brocken (Sachsen-Anhalt *)
Oberhausen (Nordrhein-Westfalen)
Oberhof (Thüringen)
Oberkirch (Baden-Württemberg *)
Oberkochen (Baden-Württemberg *)
Oberlungwitz (Sachsen)
Obermoschel (Rheinland-Pfalz)
Obernburg am Main (Bayern *)
Oberndorf am Neckar (Baden-Württemberg *)
Obernkirchen (Niedersachsen)
Ober-Ramstadt (Hessen)
Oberriexingen (Baden-Württemberg *)
Obertshausen (Hessen)
Oberursel (Taunus) (Hessen)
Oberviechtach (Bayern *)
Oberweißbach/Thür. Wald (Thüringen)
Oberwesel (Rheinland-Pfalz)
Oberwiesenthal (Sachsen)
Ochsenfurt (Bayern *)
Ochsenhausen (Baden-Württemberg *)
Ochtrup (Nordrhein-Westfalen)
Oderberg (Brandenburg)
Oebisfelde-Weferlingen (Sachsen-Anhalt *)
Oederan (Sachsen)
Oelde (Nordrhein-Westfalen)
Oelsnitz/Erzgeb. (Sachsen)
Oelsnitz/Vogtl. (Sachsen)
Oer-Erkenschwick (Nordrhein-Westfalen)
Oerlinghausen (Nordrhein-Westfalen)
Oestrich-Winkel (Hessen)
Oettingen in Bayern * (Bayern *)
Offenbach am Main (Hessen)
Offenburg (Baden-Württemberg *)
Ohrdruf (Thüringen)
Öhringen (Baden-Württemberg *)
Olbernhau (Sachsen)
Olching (Bayern *)
Oldenburg (Oldb) (Niedersachsen)
Oldenburg in Holstein (Schleswig-Holstein *)
Olfen (Nordrhein-Westfalen)
Olpe (Nordrhein-Westfalen)
Olsberg (Nordrhein-Westfalen)
Oppenau (Baden-Württemberg *)
Oppenheim (Rheinland-Pfalz)
Oranienbaum-Wörlitz (Sachsen-Anhalt *)
Oranienburg (Brandenburg)
Orlamünde (Thüringen)
Ornbau (Bayern *)
Ortenberg (Hessen)
Ortrand (Brandenburg)
Oschatz (Sachsen)
Oschersleben (Bode) (Sachsen-Anhalt *)
Osnabrück (Niedersachsen)
Osterburg (Altmark) (Sachsen-Anhalt *)
Osterburken (Baden-Württemberg *)
Osterfeld (Sachsen-Anhalt *)
Osterhofen (Bayern *)
Osterholz-Scharmbeck (Niedersachsen)
Osterode am Harz (Niedersachsen)
Osterwieck (Sachsen-Anhalt *)
Ostfildern (Baden-Württemberg *)
Ostheim vor der Rhön (Bayern *)
Osthofen (Rheinland-Pfalz)
Östringen (Baden-Württemberg *)
Ostritz (Sachsen)
Otterberg (Rheinland-Pfalz)
Otterndorf (Niedersachsen)
Ottweiler (Saarland)
Overath (Nordrhein-Westfalen)
Owen (Baden-Württemberg *)
P
Paderborn (Nordrhein-Westfalen)
Papenburg (Niedersachsen)
Pappenheim (Bayern *)
Parchim (Mecklenburg-Vorpommern *)
Parsberg (Bayern *)
Pasewalk (Mecklenburg-Vorpommern *)
Passau (Bayern *)
Pattensen (Niedersachsen)
Pausa/Vogtl. (Sachsen)
Pegau (Sachsen)
Pegnitz (Bayern *)
Peine (Niedersachsen)
Peitz (Brandenburg)
Penig (Sachsen)
Penkun (Mecklenburg-Vorpommern *)
Penzberg (Bayern *)
Penzlin (Mecklenburg-Vorpommern *)
Perleberg (Brandenburg)
Petershagen (Nordrhein-Westfalen)
Pfaffenhofen an der Ilm (Bayern *)
Pfarrkirchen (Bayern *)
Pforzheim (Baden-Württemberg *)
Pfreimd (Bayern *)
Pfullendorf (Baden-Württemberg *)
Pfullingen (Baden-Württemberg *)
Pfungstadt (Hessen)
Philippsburg (Baden-Württemberg *)
Pinneberg (Schleswig-Holstein *)
Pirmasens (Rheinland-Pfalz)
Pirna (Sachsen)
Plattling (Bayern *)
Plau am See (Mecklenburg-Vorpommern *)
Plaue (Thüringen)
Plauen (Sachsen)
Plettenberg (Nordrhein-Westfalen)
Pleystein (Bayern *)
Plochingen (Baden-Württemberg *)
Plön (Schleswig-Holstein *)
Pocking (Bayern *)
Pohlheim (Hessen)
Polch (Rheinland-Pfalz)
Porta Westfalica (Nordrhein-Westfalen)
Pößneck (Thüringen)
Potsdam (Landeshauptstadt Brandenburg)
Pottenstein (Bayern *)
Preetz (Schleswig-Holstein *)
Premnitz (Brandenburg)
Prenzlau (Brandenburg)
Pressath (Bayern *)
Preußisch Oldendorf (Nordrhein-Westfalen)
Prichsenstadt (Bayern *)
Pritzwalk (Brandenburg)
Prüm (Rheinland-Pfalz)
Puchheim (Bayern *)
Pulheim (Nordrhein-Westfalen)
Pulsnitz (Sachsen)
Putbus (Mecklenburg-Vorpommern *)
Putlitz (Brandenburg)
Püttlingen (Saarland)
Q
Quakenbrück (Niedersachsen)
Quedlinburg (Sachsen-Anhalt *)
Querfurt (Sachsen-Anhalt *)
Quickborn (Schleswig-Holstein *)
R
Rabenau (Sachsen)
Radeberg (Sachsen)
Radebeul (Sachsen)
Radeburg (Sachsen)
Radevormwald (Nordrhein-Westfalen)
Radolfzell am Bodensee (Baden-Württemberg *)
Raguhn-Jeßnitz (Sachsen-Anhalt *)
Rahden (Nordrhein-Westfalen)
Rain (Bayern *)
Ramstein-Miesenbach (Rheinland-Pfalz)
Ranis (Thüringen)
Ransbach-Baumbach (Rheinland-Pfalz)
Rastatt (Baden-Württemberg *)
Rastenberg (Thüringen)
Rathenow (Brandenburg)
Ratingen (Nordrhein-Westfalen)
Ratzeburg (Schleswig-Holstein *)
Rauenberg (Baden-Württemberg *)
Raunheim (Hessen)
Rauschenberg (Hessen)
Ravensburg (Baden-Württemberg *)
Ravenstein (Baden-Württemberg *)
Recklinghausen (Nordrhein-Westfalen)
Rees (Nordrhein-Westfalen)
Regen (Bayern *)
Regensburg (Bayern *)
Regis-Breitingen (Sachsen)
Rehau (Bayern *)
Rehburg-Loccum (Niedersachsen)
Rehna (Mecklenburg-Vorpommern *)
Reichelsheim (Wetterau) (Hessen)
Reichenbach im Vogtland (Sachsen)
Reichenbach/O.L. (Sachsen)
Reinbek (Schleswig-Holstein *)
Reinfeld (Holstein) (Schleswig-Holstein *)
Reinheim (Hessen)
Remagen (Rheinland-Pfalz)
Remda-Teichel (Thüringen)
Remscheid (Nordrhein-Westfalen)
Remseck am Neckar (Baden-Württemberg *)
Renchen (Baden-Württemberg *)
Rendsburg (Schleswig-Holstein *)
Rennerod (Rheinland-Pfalz)
Renningen (Baden-Württemberg *)
Rerik (Mecklenburg-Vorpommern *)
Rethem (Aller) (Niedersachsen)
Reutlingen (Baden-Württemberg *)
Rheda-Wiedenbrück (Nordrhein-Westfalen)
Rhede (Nordrhein-Westfalen)
Rheinau (Baden-Württemberg *)
Rheinbach (Nordrhein-Westfalen)
Rheinberg (Nordrhein-Westfalen)
Rheinböllen (Rheinland-Pfalz)
Rheine (Nordrhein-Westfalen)
Rheinfelden (Baden) (Baden-Württemberg *)
Rheinsberg (Brandenburg)
Rheinstetten (Baden-Württemberg *)
Rhens (Rheinland-Pfalz)
Rhinow (Brandenburg)
Ribnitz-Damgarten (Mecklenburg-Vorpommern *)
Richtenberg (Mecklenburg-Vorpommern *)
Riedenburg (Bayern *)
Riedlingen (Baden-Württemberg *)
Riedstadt (Hessen)
Rieneck (Bayern *)
Riesa (Sachsen)
Rietberg (Nordrhein-Westfalen)
Rinteln (Niedersachsen)
Röbel/Müritz (Mecklenburg-Vorpommern *)
Rochlitz (Sachsen)
Rockenhausen (Rheinland-Pfalz)
Rodalben (Rheinland-Pfalz)
Rodenberg (Niedersachsen)
Rödental (Bayern *)
Rödermark (Hessen)
Rodewisch (Sachsen)
Rodgau (Hessen)
Roding (Bayern *)
Römhild (Thüringen)
Romrod (Hessen)
Ronneburg (Thüringen)
Ronnenberg (Niedersachsen)
Rosbach vor der Höhe (Hessen)
Rosenfeld (Baden-Württemberg *)
Rosenheim (Bayern *)
Rosenthal (Hessen)
Rösrath (Nordrhein-Westfalen)
Roßleben (Thüringen)
Roßwein (Sachsen)
Rostock, Hansestadt (Mecklenburg-Vorpommern *)
Rotenburg an der Fulda (Hessen)
Rotenburg (Wümme) (Niedersachsen)
Roth (Bayern *)
Rötha (Sachsen)
Röthenbach an der Pegnitz (Bayern *)
Rothenburg/O.L. (Sachsen)
Rothenburg ob der Tauber (Bayern *)
Rothenfels (Bayern *)
Rottenburg am Neckar (Baden-Württemberg *)
Rottenburg a.d.Laaber (Bayern *)
Röttingen (Bayern *)
Rottweil (Baden-Württemberg *)
Rötz (Bayern *)
Rüdesheim am Rhein (Hessen)
Rudolstadt (Thüringen)
Ruhla (Thüringen)
Ruhland (Brandenburg)
Runkel (Hessen)
Rüsselsheim (Hessen)
Rutesheim (Baden-Württemberg *)
Rüthen (Nordrhein-Westfalen)
S
Saalburg-Ebersdorf (Thüringen)
Saalfeld/Saale (Thüringen)
Saarbrücken (Landeshauptstadt Saarland)
Saarburg (Rheinland-Pfalz)
Saarlouis (Saarland)
Sachsenhagen (Niedersachsen)
Sachsenheim (Baden-Württemberg *)
Salzgitter (Niedersachsen)
Salzkotten (Nordrhein-Westfalen)
Salzwedel, Hansestadt (Sachsen-Anhalt *)
Sandau (Elbe) (Sachsen-Anhalt *)
Sandersdorf-Brehna (Sachsen-Anhalt *)
Sangerhausen (Sachsen-Anhalt *)
Sankt Augustin (Nordrhein-Westfalen)
Sankt Goar (Rheinland-Pfalz)
Sankt Goarshausen (Rheinland-Pfalz)
Sarstedt (Niedersachsen)
Sassenberg (Nordrhein-Westfalen)
Sassnitz (Mecklenburg-Vorpommern *)
Sayda (Sachsen)
Schalkau (Thüringen)
Schauenstein (Bayern *)
Scheer (Baden-Württemberg *)
Scheibenberg (Sachsen)
Scheinfeld (Bayern *)
Schelklingen (Baden-Württemberg *)
Schenefeld (Schleswig-Holstein *)
Scheßlitz (Bayern *)
Schieder-Schwalenberg (Nordrhein-Westfalen)
Schifferstadt (Rheinland-Pfalz)
Schildau (Sachsen)
Schillingsfürst (Bayern *)
Schiltach (Baden-Württemberg *)
Schirgiswalde-Kirschau (Sachsen)
Schkeuditz (Sachsen)
Schkölen (Thüringen)
Schleiden (Nordrhein-Westfalen)
Schleiz (Thüringen)
Schleswig (Schleswig-Holstein *)
Schlettau (Sachsen)
Schleusingen (Thüringen)
Schlieben (Brandenburg)
Schlitz (Hessen)
Schloß Holte-Stukenbrock (Nordrhein-Westfalen)
Schlotheim (Thüringen)
Schlüchtern (Hessen)
Schlüsselfeld (Bayern *)
Schmalkalden (Thüringen)
Schmallenberg (Nordrhein-Westfalen)
Schmölln (Thüringen)
Schnackenburg (Niedersachsen)
Schnaittenbach (Bayern *)
Schneeberg (Sachsen)
Schneverdingen (Niedersachsen)
Schömberg (Baden-Württemberg *)
Schönau (Baden-Württemberg *)
Schönau im Schwarzwald (Baden-Württemberg *)
Schönberg (Mecklenburg-Vorpommern *)
Schönebeck (Elbe) (Sachsen-Anhalt *)
Schöneck/Vogtl. (Sachsen)
Schönewalde (Brandenburg)
Schongau (Bayern *)
Schöningen (Niedersachsen)
Schönsee (Bayern *)
Schönwald (Bayern *)
Schopfheim (Baden-Württemberg *)
Schöppenstedt (Niedersachsen)
Schorndorf (Baden-Württemberg *)
Schortens (Niedersachsen)
Schotten (Hessen)
Schramberg (Baden-Württemberg *)
Schraplau (Sachsen-Anhalt *)
Schriesheim (Baden-Württemberg *)
Schrobenhausen (Bayern *)
Schrozberg (Baden-Württemberg *)
Schüttorf (Niedersachsen)
Schwaan (Mecklenburg-Vorpommern *)
Schwabach (Bayern *)
Schwäbisch Gmünd (Baden-Württemberg *)
Schwäbisch Hall (Baden-Württemberg *)
Schwabmünchen (Bayern *)
Schwaigern (Baden-Württemberg *)
Schwalbach am Taunus (Hessen)
Schwalmstadt (Hessen)
Schwandorf (Bayern *)
Schwanebeck (Sachsen-Anhalt *)
Schwarzenbach am Wald (Bayern *)
Schwarzenbach an der Saale (Bayern *)
Schwarzenbek (Schleswig-Holstein *)
Schwarzenberg/Erzgeb. (Sachsen)
Schwarzenborn (Hessen)
Schwarzheide (Brandenburg)
Schwedt/Oder (Brandenburg)
Schweich (Rheinland-Pfalz)
Schweinfurt (Bayern *)
Schwelm (Nordrhein-Westfalen)
Schwentinental (Schleswig-Holstein *)
Schwerin (Landeshauptstadt Mecklenburg-Vorpommern *)
Schwerte (Nordrhein-Westfalen)
Schwetzingen (Baden-Württemberg *)
Sebnitz (Sachsen)
Seehausen (Altmark) (Sachsen-Anhalt *)
Seeland (Sachsen-Anhalt *)
Seelow (Brandenburg)
Seelze (Niedersachsen)
Seesen (Niedersachsen)
Sehnde (Niedersachsen)
Seifhennersdorf (Sachsen)
Selb (Bayern *)
Selbitz (Bayern *)
Seligenstadt (Hessen)
Selm (Nordrhein-Westfalen)
Selters (Westerwald) (Rheinland-Pfalz)
Senden (Bayern *)
Sendenhorst (Nordrhein-Westfalen)
Senftenberg (Brandenburg)
Seßlach (Bayern *)
Siegburg (Nordrhein-Westfalen)
Siegen (Nordrhein-Westfalen)
Sigmaringen (Baden-Württemberg *)
Simbach am Inn (Bayern *)
Simmern/Hunsrück (Rheinland-Pfalz)
Sindelfingen (Baden-Württemberg *)
Singen (Hohentwiel) (Baden-Württemberg *)
Sinsheim (Baden-Württemberg *)
Sinzig (Rheinland-Pfalz)
Soest (Nordrhein-Westfalen)
Solingen (Nordrhein-Westfalen)
Solms (Hessen)
Soltau (Niedersachsen)
Sömmerda (Thüringen)
Sondershausen (Thüringen)
Sonneberg (Thüringen)
Sonnewalde (Brandenburg)
Sonthofen (Bayern *)
Sontra (Hessen)
Spaichingen (Baden-Württemberg *)
Spalt (Bayern *)
Spangenberg (Hessen)
Speicher (Eifel) (Rheinland-Pfalz)
Spenge (Nordrhein-Westfalen)
Speyer (Rheinland-Pfalz)
Spremberg (Brandenburg)
Springe (Niedersachsen)
Sprockhövel (Nordrhein-Westfalen)
Stade (Niedersachsen)
Stadtallendorf (Hessen)
Stadtbergen (Bayern *)
Stadthagen (Niedersachsen)
Stadtilm (Thüringen)
Stadtlengsfeld (Thüringen)
Stadtlohn (Nordrhein-Westfalen)
Stadtoldendorf (Niedersachsen)
Stadtprozelten (Bayern *)
Stadtroda (Thüringen)
Stadtsteinach (Bayern *)
Stadt Wehlen (Sachsen)
Starnberg (Bayern *)
Staßfurt (Sachsen-Anhalt *)
Staufen im Breisgau (Baden-Württemberg *)
Staufenberg (Hessen)
Stavenhagen (Mecklenburg-Vorpommern *)
St. Blasien (Baden-Württemberg *)
Stein (Bayern *)
Steinach (Thüringen)
Steinau an der Straße (Hessen)
Steinbach-Hallenberg (Thüringen)
Steinbach (Taunus) (Hessen)
Steinfurt (Nordrhein-Westfalen)
Steinheim an der Murr (Baden-Württemberg *)
Steinheim (Nordrhein-Westfalen)
Stendal (Sachsen-Anhalt *)
Sternberg (Mecklenburg-Vorpommern *)
St. Ingbert (Saarland)
St. Georgen im Schwarzwald (Baden-Württemberg *)
Stockach (Baden-Württemberg *)
Stolberg (Rhld.) (Nordrhein-Westfalen)
Stollberg/Erzgeb. (Sachsen)
Stolpen (Sachsen)
Storkow (Mark) (Brandenburg)
Stößen (Sachsen-Anhalt *)
Straelen (Nordrhein-Westfalen)
Stralsund, Hansestadt (Mecklenburg-Vorpommern *)
Strasburg (Uckermark) (Mecklenburg-Vorpommern *)
Straubing (Bayern *)
Strausberg (Brandenburg)
Strehla (Sachsen)
Stromberg (Rheinland-Pfalz)
Stühlingen (Baden-Württemberg *)
Stutensee (Baden-Württemberg *)
Stuttgart (Landeshauptstadt Baden-W.)
St. Wendel (Saarland)
Suhl (Thüringen)
Sulingen (Niedersachsen)
Sulz am Neckar (Baden-Württemberg *)
Sulzbach/Saar (Saarland)
Sulzbach-Rosenberg (Bayern *)
Sulzburg (Baden-Württemberg *)
Sundern (Sauerland) (Nordrhein-Westfalen)
Südliches Anhalt (Sachsen-Anhalt *)
Süßen (Baden-Württemberg *)
Syke (Niedersachsen)
T
Tambach-Dietharz (Thüringen)
Tangerhütte (Sachsen-Anhalt *)
Tangermünde (Sachsen-Anhalt *)
Tann (Rhön) (Hessen)
Tanna (Thüringen)
Tauberbischofsheim (Baden-Württemberg *)
Taucha (Sachsen)
Taunusstein (Hessen)
Tecklenburg (Nordrhein-Westfalen)
Tegernsee (Bayern *)
Telgte (Nordrhein-Westfalen)
Teltow (Brandenburg)
Templin (Brandenburg)
Tengen (Baden-Württemberg *)
Tessin (Mecklenburg-Vorpommern *)
Teterow (Mecklenburg-Vorpommern *)
Tettnang (Baden-Württemberg *)
Teublitz (Bayern *)
Teuchern (Sachsen-Anhalt *)
Teupitz (Brandenburg)
Teuschnitz (Bayern *)
Thale (Sachsen-Anhalt *)
Thalheim/Erzgeb. (Sachsen)
Thannhausen (Bayern *)
Tharandt (Sachsen)
Themar (Thüringen)
Thum (Sachsen)
Tirschenreuth (Bayern *)
Titisee-Neustadt (Baden-Württemberg *)
Tittmoning (Bayern *)
Todtnau (Baden-Württemberg *)
Töging am Inn (Bayern *)
Tönisvorst (Nordrhein-Westfalen)
Tönning (Schleswig-Holstein *)
Torgau (Sachsen)
Torgelow (Mecklenburg-Vorpommern *)
Tornesch (Schleswig-Holstein *)
Traben-Trarbach (Rheinland-Pfalz)
Traunreut (Bayern *)
Traunstein (Bayern *)
Trebbin (Brandenburg)
Trebsen/Mulde (Sachsen)
Treffurt (Thüringen)
Trendelburg (Hessen)
Treuchtlingen (Bayern *)
Treuen (Sachsen)
Treuenbrietzen (Brandenburg)
Triberg im Schwarzwald (Baden-Württemberg *)
Tribsees (Mecklenburg-Vorpommern *)
Trier (Rheinland-Pfalz)
Triptis (Thüringen)
Trochtelfingen (Baden-Württemberg *)
Troisdorf (Nordrhein-Westfalen)
Trossingen (Baden-Württemberg *)
Trostberg (Bayern *)
Tübingen (Baden-Württemberg *)
Tuttlingen (Baden-Württemberg *)
Twistringen (Niedersachsen)
U
Übach-Palenberg (Nordrhein-Westfalen)
Überlingen (Baden-Württemberg *)
Uebigau-Wahrenbrück (Brandenburg)
Ueckermünde (Mecklenburg-Vorpommern *)
Uelzen (Niedersachsen)
Uetersen (Schleswig-Holstein *)
Uffenheim (Bayern *)
Uhingen (Baden-Württemberg *)
Ulm (Baden-Württemberg *)
Ulmen (Rheinland-Pfalz)
Ulrichstein (Hessen)
Ummerstadt (Thüringen)
Unkel (Rheinland-Pfalz)
Unna (Nordrhein-Westfalen)
Unterschleißheim (Bayern *)
Usedom (Mecklenburg-Vorpommern *)
Usingen (Hessen)
Uslar (Niedersachsen)
V
Vacha (Thüringen)
Vaihingen an der Enz (Baden-Württemberg *)
Vallendar (Rheinland-Pfalz)
Varel (Niedersachsen)
Vechta (Niedersachsen)
Velbert (Nordrhein-Westfalen)
Velburg (Bayern *)
Velden (Bayern *)
Vellberg (Baden-Württemberg *)
Vellmar (Hessen)
Velten (Brandenburg)
Verden (Aller) (Niedersachsen)
Veringenstadt (Baden-Württemberg *)
Verl (Nordrhein-Westfalen)
Versmold (Nordrhein-Westfalen)
Vetschau/Spreewald (Brandenburg)
Viechtach (Bayern *)
Vienenburg (Niedersachsen)
Viernheim (Hessen)
Viersen (Nordrhein-Westfalen)
Villingen-Schwenningen (Baden-Württemberg *)
Vilsbiburg (Bayern *)
Vilseck (Bayern *)
Vilshofen an der Donau (Bayern *)
Visselhövede (Niedersachsen)
Vlotho (Nordrhein-Westfalen)
Voerde (Niederrhein) (Nordrhein-Westfalen)
Vogtsburg im Kaiserstuhl (Baden-Württemberg *)
Vohburg an der Donau (Bayern *)
Vohenstrauß (Bayern *)
Vöhrenbach (Baden-Württemberg *)
Vöhringen (Bayern *)
Volkach (Bayern *)
Völklingen (Saarland)
Volkmarsen (Hessen)
Vreden (Nordrhein-Westfalen)
W
Wachenheim an der Weinstraße (Rheinland-Pfalz)
Wächtersbach (Hessen)
Wadern (Saarland)
Waghäusel (Baden-Württemberg *)
Wahlstedt (Schleswig-Holstein *)
Waiblingen (Baden-Württemberg *)
Waibstadt (Baden-Württemberg *)
Waischenfeld (Bayern *)
Waldbröl (Nordrhein-Westfalen)
Waldeck (Hessen)
Waldenbuch (Baden-Württemberg *)
Waldenburg (Sachsen)
Waldenburg (Baden-Württemberg *)
Waldershof (Bayern *)
Waldheim (Sachsen)
Waldkappel (Hessen)
Waldkirch (Baden-Württemberg *)
Waldkirchen (Bayern *)
Waldkraiburg (Bayern *)
Waldmünchen (Bayern *)
Waldsassen (Bayern *)
Waldshut-Tiengen (Baden-Württemberg *)
Walldorf (Baden-Württemberg *)
Walldürn (Baden-Württemberg *)
Wallenfels (Bayern *)
Walsrode (Niedersachsen)
Waltershausen (Thüringen)
Waltrop (Nordrhein-Westfalen)
Wanfried (Hessen)
Wangen im Allgäu (Baden-Württemberg *)
Wanzleben-Börde (Sachsen-Anhalt *)
Warburg (Nordrhein-Westfalen)
Waren (Müritz) (Mecklenburg-Vorpommern *)
Warendorf (Nordrhein-Westfalen)
Warin (Mecklenburg-Vorpommern *)
Warstein (Nordrhein-Westfalen)
Wassenberg (Nordrhein-Westfalen)
Wasserburg am Inn (Bayern *)
Wassertrüdingen (Bayern *)
Wasungen (Thüringen)
Wedel (Schleswig-Holstein *)
Weener (Niedersachsen)
Wegberg (Nordrhein-Westfalen)
Wegeleben (Sachsen-Anhalt *)
Wehr (Baden-Württemberg *)
Weida (Thüringen)
Weiden in der Oberpfalz (Bayern *)
Weikersheim (Baden-Württemberg *)
Weil am Rhein (Baden-Württemberg *)
Weilburg (Hessen)
Weil der Stadt (Baden-Württemberg *)
Weilheim an der Teck (Baden-Württemberg *)
Weilheim in OberBayern * (Bayern *)
Weimar (Thüringen)
Weingarten (Baden-Württemberg *)
Weinheim (Baden-Württemberg *)
Weinsberg (Baden-Württemberg *)
Weinstadt (Baden-Württemberg *)
Weismain (Bayern *)
Weißenberg (Sachsen)
Weißenburg in Bayern * (Bayern *)
Weißenfels (Sachsen-Anhalt *)
Weißenhorn (Bayern *)
Weißensee (Thüringen)
Weißenstadt (Bayern *)
Weißenthurm (Rheinland-Pfalz)
Weißwasser/O.L. (Sachsen)
Weiterstadt (Hessen)
Welzheim (Baden-Württemberg *)
Welzow (Brandenburg)
Wemding (Bayern *)
Wendlingen am Neckar (Baden-Württemberg *)
Werben (Elbe) (Sachsen-Anhalt *)
Werdau (Sachsen)
Werder (Havel) (Brandenburg)
Werdohl (Nordrhein-Westfalen)
Werl (Nordrhein-Westfalen)
Wermelskirchen (Nordrhein-Westfalen)
Wernau (Neckar) (Baden-Württemberg *)
Werne (Nordrhein-Westfalen)
Werneuchen (Brandenburg)
Wernigerode (Sachsen-Anhalt *)
Wertheim (Baden-Württemberg *)
Werther (Westf.) (Nordrhein-Westfalen)
Wertingen (Bayern *)
Wesel (Nordrhein-Westfalen)
Wesenberg (Mecklenburg-Vorpommern *)
Wesselburen (Schleswig-Holstein *)
Wesseling (Nordrhein-Westfalen)
Westerburg (Rheinland-Pfalz)
Westerstede (Niedersachsen)
Wetter (Ruhr) (Nordrhein-Westfalen)
Wetter (Hessen) (Hessen)
Wettin-Löbejün (Sachsen-Anhalt *)
Wetzlar (Hessen)
Widdern (Baden-Württemberg *)
Wiehe (Thüringen)
Wiehl (Nordrhein-Westfalen)
Wiesbaden (Landeshauptstadt Hessen)
Wiesmoor (Niedersachsen)
Wiesensteig (Baden-Württemberg *)
Wiesloch (Baden-Württemberg *)
Wildberg (Baden-Württemberg *)
Wildemann (Niedersachsen)
Wildenfels (Sachsen)
Wildeshausen (Niedersachsen)
Wilhelmshaven (Niedersachsen)
Wilkau-Haßlau (Sachsen)
Willebadessen (Nordrhein-Westfalen)
Willich (Nordrhein-Westfalen)
Wilsdruff (Sachsen)
Wilster (Schleswig-Holstein *)
Wilthen (Sachsen)
Windischeschenbach (Bayern *)
Windsbach (Bayern *)
Winnenden (Baden-Württemberg *)
Winsen (Luhe) (Niedersachsen)
Winterberg (Nordrhein-Westfalen)
Wipperfürth (Nordrhein-Westfalen)
Wirges (Rheinland-Pfalz)
Wismar, Hansestadt (Mecklenburg-Vorpommern *)
Wissen (Rheinland-Pfalz)
Witten (Nordrhein-Westfalen)
Wittenberg (Sachsen-Anhalt *)
Wittenberge (Brandenburg)
Wittenburg (Mecklenburg-Vorpommern *)
Wittichenau (Sachsen)
Wittlich (Rheinland-Pfalz)
Wittingen (Niedersachsen)
Wittmund (Niedersachsen)
Wittstock/Dosse (Brandenburg)
Witzenhausen (Hessen)
Woldegk (Mecklenburg-Vorpommern *)
Wolfach (Baden-Württemberg *)
Wolfenbüttel (Niedersachsen)
Wolfhagen (Hessen)
Wolframs-Eschenbach (Bayern *)
Wolfratshausen (Bayern *)
Wolfsburg (Niedersachsen)
Wolfstein (Rheinland-Pfalz)
Wolgast (Mecklenburg-Vorpommern *)
Wolkenstein (Sachsen)
Wolmirstedt (Sachsen-Anhalt *)
Worms (Rheinland-Pfalz)
Wörrstadt (Rheinland-Pfalz)
Wörth am Rhein (Rheinland-Pfalz)
Wörth an der Donau (Bayern *)
Wörth am Main (Bayern *)
Wriezen (Brandenburg)
Wülfrath (Nordrhein-Westfalen)
Wunsiedel (Bayern *)
Wunstorf (Niedersachsen)
Wuppertal (Nordrhein-Westfalen)
Würselen (Nordrhein-Westfalen)
Wurzbach (Thüringen)
Würzburg (Bayern *)
Wurzen (Sachsen)
Wustrow (Wendland) (Niedersachsen)
Wyk auf Föhr (Schleswig-Holstein *)
X
Xanten (Nordrhein-westfalen)
Z
Zahna-Elster (Sachsen-Anhalt *)
Zarrentin am Schaalsee (Mecklenburg-Vorpommern *)
Zehdenick (Brandenburg)
Zeil am Main (Bayern *)
Zeitz (Sachsen-Anhalt *)
Zell am Harmersbach (Baden-Württemberg *)
Zell im Wiesental (Baden-Württemberg *)
Zell (Mosel) (Rheinland-Pfalz)
Zella-Mehlis (Thüringen)
Zerbst/Anhalt (Sachsen-Anhalt *)
Zeulenroda-Triebes (Thüringen)
Zeven (Niedersachsen)
Ziegenrück (Thüringen)
Zierenberg (Hessen)
Ziesar (Brandenburg)
Zirndorf (Bayern *)
Zittau (Sachsen)
Zöblitz (Sachsen)
Zörbig (Sachsen-Anhalt *)
Zossen (Brandenburg)
Zschopau (Sachsen)
Zülpich (Nordrhein-Westfalen)
Zweibrücken (Rheinland-Pfalz)
Zwenkau (Sachsen)
Zwickau (Sachsen)
Zwiesel (Bayern *)
Zwingenberg (Hessen)
Zwönitz (Sachsen)