FOOD TRUCK / FOOD TRAILER / CONTAINER Configurator
Put together your own desired product online according to your own ideas. In doing so, you can realize your mobile gastronomy dream from a spectrum of countless components. The configurator is a true innovation of DANSTEP GmbH in the catering vehicle industry.
Food Truck configurator
Food Truck configurator– Assemble your own desired product online according to your own ideas. You can choose from a range of countless components to make your mobile catering dream come true. The configurator is a true innovation of DANSTEP GmbH in the catering vehicle industry. This tool is designed to help you select exactly the products for your food truck that you actually want to buy. Based on your pre-selection, DANSTEP GmbH will create a customized offer for your food truck, sales truck or food trailer – to name just a small selection of options. You can use the configurator to design your "dream" with us. Either stylish colorful, monochrome or classic – we will share our experience with you. Through our individual selection, everyone can get off to the best possible start. Visitors will be able to spot your sales cart from a distance and admire your tasty assorted display of goods. The flexible use of the sales trolley allows you to keep all your options open. Thanks to the intelligent design of our food trucks, you can keep every product ready to hand and find enough storage space to bring your products to the customer in stock.
Our goal is to provide every customer with a quotation within 48 hours for their desired use. We confidently believe that we offer the customer competitive prices and unparalleled quality. In the past 10 years, we have constantly refined our know-how. We have built hundreds of kebab trailers, chicken trucks, snack trucks and food trucks. Customers have always put their trust in DANSTEP GmbH and have not been disappointed.
We have built food trucks to customer specifications that are so distinctive that the brand value of the operator skyrocketed.
We created countless fish trucks, chicken trucks, kebab trucks and trendy street food trailers, always based on the customer's individual ideas.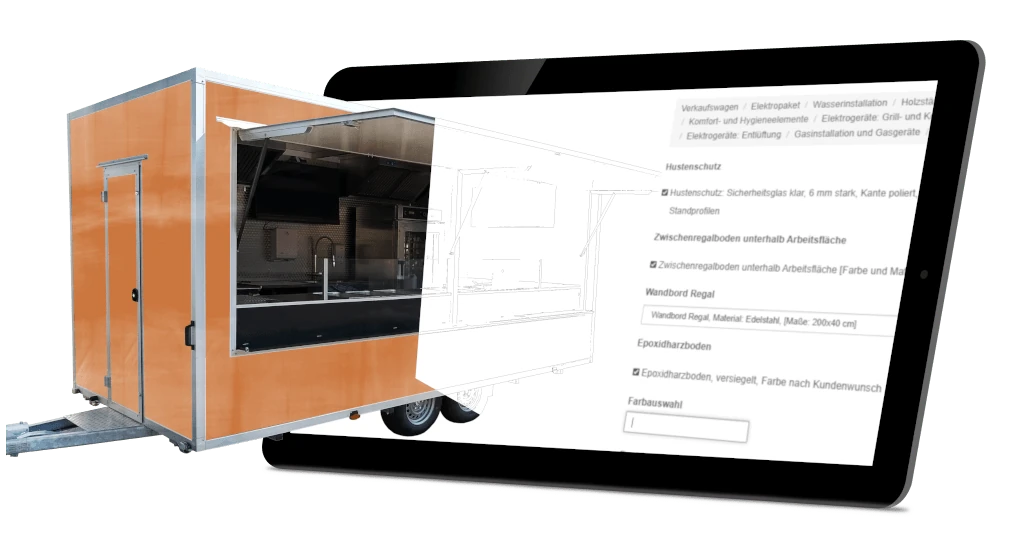 Assemble Food Truck online
The food truck configurator starts with the compilation of the selection of the empty vehicle. If you find it difficult to choose a suitable vehicle base for your food truck, do not hesitate to ask us for advice.
Furthermore, you can decide whether you need additional sales flaps. Because your turnover can skyrocket if your food truck has more than one sales flap. The standard food truck is always single flap.
In the next step, we ask you to choose the electric package. Don't worry: we always make sure that your food truck has enough power outlets.
In the next step, you can plan your water supply. There are proven, functional and powerful solutions to choose from. After all, a food truck without a professional water supply will quickly be objected to by the health department. With DANSTEP as your partner, you can avoid such unnecessary and costly hassles.
Furthermore, you can put together your cabinets and work surfaces from our selection of decors. After all, what is suitable for a kebab bite cart is not necessarily the best choice for a french fry grill cart. So DANSTEP GmbH offers you an extensive range of wood, design and surface options.
The lighting options can also be described as extensive. After all, you can't do without pleasant lighting to present your products. Especially in the street food sector, stylish lighting is in high demand. While for a market vehicle a classical lighting is suitable.
The "interior clothing" of your sales vehicle follows in the next step. You can decide whether you want to use additional wall shelves or a TV to present your offers.
With our rich selection of equipment, you decide whether you want to grill, fry or deep-fry with electricity or gas as the primary energy source. In any case, it is important to have sufficient ventilation. This is the only way to make working in your food truck a pleasure.
Now we come to the storage of your ingredients and drinks. You should not skimp on the right cooling or freezing options. The wide range of accessories completes your new sales trolley and we can realize your dream with a non-binding offer.
We are willing to work with you to bring your dream to life.
What happens after the configurator selection has been sent to DANSTEP GmbH?
First, you will have the pleasure of getting to know the incomparable DANSTEP service. You will receive an offer ready for signature within 2 working days. Our technical consultants have already simulated the weight distribution and drawbar load when they send you the offer. The feasibility of your configuration has also been found to be positive by our operations manager. The proverbial "ball" is now in your court. We will be happy to adjust your offer for you until you have absolute certainty that you will receive your perfect work and well-being space from us. DANSTEP means customer proximity. It's no coincidence that we have recorded double-digit growth for the ninth year in a row. You too can benefit from becoming a DANSTEP customer.
You will be pleasantly surprised.